Scrapbooking travel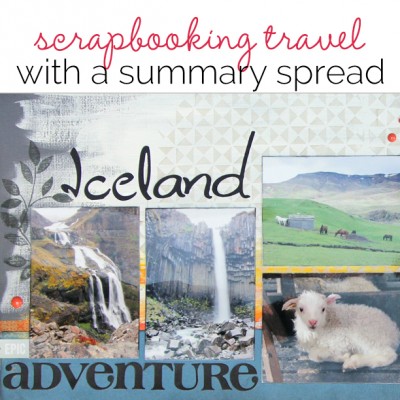 is a different from scrapbooking everyday life. There are more photos and there's a story to tell and even a chronology to convey.
A "summary" spread that conveys the whole of a trip on one layout is a great way to kick off a travel album or series of pages. Get ideas for summary travel pages from our Creative Team.[hr]
collect landscape shots from the entire trip along with a portrait of the travelers
Gretchen Henninger says, "This scrapbook page captures some of the photos from our recent adventures in Iceland.  Iceland has stunning landscapes and I wanted to record a variety of different scenes on one layout. To do this, I printed seven smaller photos and one larger photo feature my husband and myself in front of an ice lagoon.  I used paint and a stencil on the background to represent the cold rain that followed us across the country."
add a strip of selected photos for each stop on the trip
Stefanie Semple says, "My family of five cruised at the end of last year, taking in European sights."
"I chose a few photos from each place we visited on the cruise and arranged each grouping in its own strip. Some days we stayed in the same place, so I showcased the places rather than the days. I kept the look here  clean and linear, perfect for the cover of a photobook. I will add details and journaling as I document each stop inside the book."
arrange photos from the trip in logical groupings
Susanne Brauer says, "These pages document our trip to Napa Valley over spring break.  It was a restful and relaxing few days.  I tried to convey the casualness of the trip in three of the design features:"
I placed the photos in a slightly irregular fashion, as though they were spread out on a table to be sorted through.
I used white space horizontally across the middle to move the eyes smoothly across the two pages.
I placed the title and pictures featuring us at the top, giving them priority over the photos of the places visited at the bottom.
create a scene that represents your vacation with a photo backdrop, extractions, and a blocked grouping
Terry Billman says, "Craig and I took a summer vacation in our motor home to Yellowstone National Park and the Grand Teton National Park. Our goal was to take a relaxing trip to the mountains, enjoy the scenery as we drove from Texas to Wyoming, and take lots of photos of the breathtaking countryside."
"Here, my goal was for the photos to tell the story of our trip. To do this, I included a photo of our motor home and car being towed, a map of Yellowstone National Park, and a few of my favorite photos. My two favorite photographs from our trip are highlighted here. The large background photo is of the Teton Mountains. The block of photos with a diamond at the center includes: photos of Craig and me with our cameras, wildlife, and the signs of the two National Parks. Instead of journaling, I used word strips to define our vacation."
use one photo and one journaling card for each day
Michelle Houghton says, "My family all traveled to Hawaii the summer of 2013, and this is a full sum up of the extended trip.  I used a pocket page format and include a photo from every day we were there.  The photos each have the date they were taken on them and there are corresponding journaling cards in adjacent pockets.  It was a fun way to revisit every single day of the trip and the long list of activities that we enjoyed."
layer trip highlight photos over enlargements of trip start and end
Audrey Tan says, "We headed to India during our Easter break to visit my husband. The trip had two purposes: one, to visit my husband who is working there now, and, two, for the boys to experience living in India as we will be moving there in August. I highlighted an event per day here. We didn't do much sightseeing as it was extremely hot in April. However, we did visit a lot of eateries. As Easter fell during our trip, I did the traditional egg hunt in the apartment just to keep up with tradition. I showcased two main photos: one, of our arrival in India, and the other, the boys saying goodbye to their dad. We won't be seeing him for the next 12 weeks!"