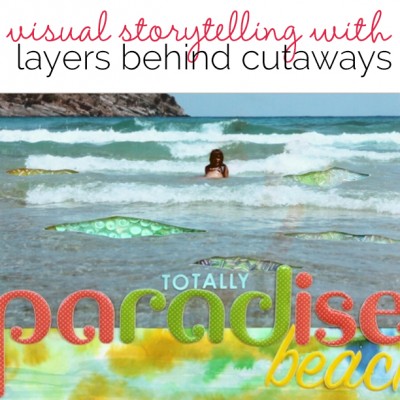 Layering is a great tool for scrapbook page storytelling, and it takes on a new power when we see the elements below through a cutway (or negative space). Make the most of that opportunity and layer something behind your cutaway that supports your story and strengthens your page design.
cut organic waves from an ocean photo, and back them up with glitter and pearls to echo seafoam
Kiki Kougioumtzi says, "This shows the first time my daughter went to Paradise beach, a beach where waves are always present, and she was ecstatic. She loves playing with waves and diving to find sea treasures."
"To enhance the waves, which are at the heart of this story, I cut away parts of them in the photo and laid beads and glitter underneath the openings to represent the sea foam."
"I studied the photo and cut shapes naturally formed by the colors. Then I marked the openings on my background paper with a pencil to make filling them easier. To glue the beads and glitter on my background paper I used gloss gel medium (which is transparent when dry). To glue my photo I used hot glue around the openings. This way the photo stays as flat as possible, letting the beads show through clearly."
cut saber tooth tiger slashes from your canvas and back them up with museum photos
Michelle Houghton says, "My family visited a Mammoth exhibit last spring and my girls decided to hit some poses for the camera.  I tore into my top layer of patterned paper creating holes for my photos to be seen through.  I was trying to make it look like the saber tooth had torn right into my layout."
"To get the tears or holes in just the right place, lay your photos on top of the paper.With a pencil lightly outline all of them and then mark where you want your holes."
cut your title from a photo and back it up with color and texture representing what might lay beneath the actual scene
Vicki Hibbins says, "This page is about my daughter playing in the rain. She was fascinated by the water running down the drains in the street.
"I cut my title at the bottom of the page, near her feet, to symbolize the drains through which the water was running. A gray tone-on-tone print backs up the cutout representing the area below the drains."
"To get this effect in Photoshop: use a font to make the title, clip a patterned paper to the font, give the font an 'inner shadow' layer style. Make sure the shadow is opposite to the angle on the drop shadows on your other elements (here the word strips).
cover summer photos with a white canvas from which a long title has been cut to represent what winter hides
Marcia Fortunato says, "This scrapbook page is about the unexpected gardens we inherited when we recently bought a lake home in Minnesota."
"The white cardstock with a full-page cutaway title is like the snow laying over the gardens. Backed up with photos from the gardens, it's a great visual representation of our incredible hidden treasure."
"The title was cut with my Silhouette Cameo. When cutting a very large and/or intricate design, use a mat that is not real sticky so that the paper can be removed more easily without tearing it."
back up a globe-shaped cutaway with map-print paper
Jett Hampton says, "This page summarizes the places I visited during my first major business trip."
"I found the globe with the word travel in the Silhouette store and I knew it would be perfect for this story.  I placed a map print patterned paper underneath the cutout and placed it on pop dots for more dimension.  My favorite tip for getting great detailed cuts from the silhouette is to use speed setting 1 and always select double cut."
"I also cut out the airport codes and used coordinated papers to highlight.  The final cut out are the tags, which reminded me of bag tags used when traveling.  These worked perfectly for another spot for journaling."
represent what you see behind the camera lens with photos behind circular cutaways
Deborah Wagner  says, "These are photos of our family from 2011. I used the circle cut-aways to represent what I see when I'm behind my camera. I filled the negative space with photos, patterned papers, word art and embellishments. To make the glass lens for the title, I used a digital snow globe element."
back a chevron cutaway with a geometric print to represent a story about movement and energy
Christy Strickler says, "While at the airport, we bought a small container of Mexican Jumping Beans on a whim, and this page tells that story."
"I layered triangle print patterned paper behind chevron cutaways. I wanted to mimic the fun whimsy of the jumping beans. I added texture by hand stitching my own design into portions of the chevron cutaway."
"When hand stitching inside a cutaway section, look for patterns that already exist, then carry the pattern through the entire die cut."