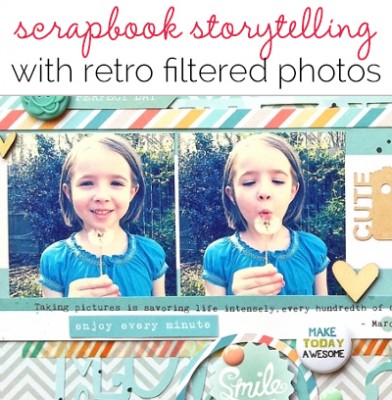 It's become easy to alter your photos with photo filters either in Photoshop or right on your phone with editing apps, and this is a great scrapbook page storytelling tool. You can set mood and reinforce story with your treatment.
Filters that add a vintage fade, flare or grain to photos are currently popular. Instagram and Hipstamatic smart phone apps make these transformations easy. A wonderful consideration of this trend is on The Society Pages, and author Nathan Jurgenson  says, "The faux-vintage photo . . . is merely an illustrative example of a larger trend whereby social media increasingly force us to view our present as always a potential documented past."
See how our team has used photos with vintage treatments and what tools they've used.
Instagram Valencia filter
Ashley Horton says, "We were doing spring yardwork, when our middle daughter discovered a dandelion and posed for a photo before blowing it.  I love to add filters to my photos using Instagram and on this one I used Valencia. It adds a warming effect.  This filter darkened the background in my photo, while highlighting my daughter and making her and the dandelion the focal point."
 Rad Lab Pool Party filter
Heather Awsumb says, "This page is about a boat tour I took in Madagascar over Christmas. The photo is a selfie I took on the beach. I used Rad Lab Pool Party filter in Photoshop Elements.  It gave the photo a sun-kissed look adding to the beach theme of the layout. "
Lightroom and Matt's Vintage Style filter
Marie-Pierre Capistran says, "This page is about me going to Santa's village with my mom in 1980 and then again with my daughters 33 years later. To give my 2013 photo an aged look, I edited the photo with Lightroom and added "Matt's vintage style" filter from Lightroom Killer Tips.   I added a vintage Santa die cut and glitter from my Christmas decoration box."
FotoRus and Aviary apps
Audrey Tan says, "This page is about documenting my weekly selfie poses. Rather than using normal photos, I usually add a filter to give each of the weekly photos a different look. I used an app called Aviary and added the Solar effect for a retro look. To further enhance the photo, I added flares using another app called FotoRus. With a filtered photo, I can change the mood of each of my weekly selfie page. "
 Picassa 1960s and color process filters
Katie Scott  says, "My daughter picks a skill and then practices it until she has it mastered. This spring it is roller skating (not roller blading – she's already got that down). I used Google's free photo editing program Picasa and I applied the "1960s" and "color process" effects to give my photo collage a retro filtered effect.  This  filtered look works with my subject because rollerskating seems "retro" to me and using color filters on camera phones is something that 10-year-old hipsters like my daughter enjoy applying to their photos.
Rad Lab filters
Andrea  says, "This is a photo of my daughter on a wonderful day walking in an Arboretum.  I used RadLab to give my photo a retro look. The colors add to the old fashioned mood of the page and a lot of blending to adds a worn look. Now that she is away at college it does seem like a long time ago."
Picassa Sepia Filter
Rosann Santos-Elliott says, "I decided to go with a warm, sepia filter in this photo of my son and me being silly. The lighting in my house is quite bad and using a filter like this always make the photos look a lot nicer. I used the free Picasa software to convert to sepia, warmify the photo and create a soft look. The software is easy to use.  Because my choice of product was so bright and bold, I thought a soft monochromatic filter to the photo would be best for the design. I like the contradiction that sepia is demure but the photo is silly and fun-loving."
Radlab: Sparta, Sexy 70's and Diving Light + Photoshop like leaks technique
Deborah Wagner says, "I am making a graduation book for a friend's son. Although this photo is only 10 years old, I wanted to give it a vintage look, and create a sense of nostalgia. I applied several filters using Radlab: Sparta, Sexy 70's and Diving Light. I duplicated the filtered photo and applied another Radlab filter, Boring Sepia. I reduced the opacity of the sepia layer to let some of the color from the bottom photo layer show through.
To imitate the look of light leaks:
I added  a gradient fill layer (red – turquoise)
Set to Screen at 55% opacity
Duplicated the gradient layer
And set this to Pin Light at 18% opacity.