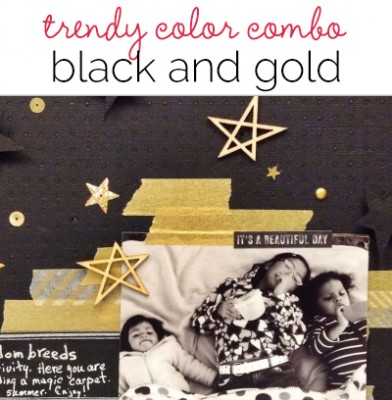 Use a scrapbook page color scheme of black and gold and you've got instant drama–a drama that's well suited to some of the scrapbook page storytelling you do. Following on the movie remake of The Great Gatsby, stars on the award carpets showed off black and gold. Today you can find current fashion, decor, and accessories using this combo.
We've collected black and gold inspiration for you on Pinterest and we've got scrapbook pages below that put this combo to work. See the products and textures our team used, see the relative proportions, and see what other neutrals they used to make this combo work.
Kiki Kougioumtzi says, "This layout is about my daughter's first picture: her ultrasound. I felt this precious moment in our lives deserved a special treatment, and so I chose a rich and elegant color combination. Black and gold are dominant with white supporting. The main design is based on a circle (representing the circle of life) made with gold leafing. Splashes of gold mist mark the positions of the focal elements of title and photo. 
Amanda Robinson says, "This page documents something amusing that my son said to me.I added pops of black and gold to embellish my page which has a neutral foundation. 'Black and gold' is actually a direct quote from this particular story so my color scheme entirely supports the page topic."
Terry Billman says, "Every year Laredo Medical Center hosts a Christmas dinner and dance for the physicians and their administrative staff.  It's a little out of Craig's comfort zone, and I'm glad he tries to fit in my working world. Pairing dark dramatic colors with lighter ones creates makes a strong statement. The metallic texture adds a decadent and extravagant feel. I converted the background of the photo to black and white and used selective coloring to highlight Craig and myself."
Katie Scott says, "My son and I have begun an annual tradition of going to the Renaissance Fair when it comes to town in the spring. This year we tried knife, axe, and ninja star throwing. My son earned black and gold stickers that he later gave to me with a very serious instruction: Mom – put these on a scrapbook page, ok? I used the black and gold color scheme of the stickers as my inspiration for the page. I printed a photo collage using Picasa and I desaturated the colors in the photos so they were still in color (as my son dislikes the look of black and white or sepia photos) but the colors were muted so they worked with this color scheme."
Michelle Hernandez says, "I used washi as a backdrop for my photo, taking care to add the patterned ones to areas where they would be visible. I added sequins and glitter brads for pop. The pop up cardstock stars were a last minute fix for glue mistakes or eraser marks. One of the reasons I don't use black cardstock often (even though I love the look) is that it's harder to keep tidy than white cardstock. Everything you do to correct a mistake shows."
Christy Strickler  says, "A friend of mine talked me into posing for a modeling company portfolio.The picture felt very formal, so I felt that the black and gold accented it well. Black and gold can be considered to have a lot of weight. I lightened up the feel of the layout by using vellum and vellum tape with gold accents."
Celeste Smith says, "My silly kitten, Milo, likes to sit on my keyboard while I work. I used mostly black and white with touches of gold. I tried to blance the bits of gold throughout the page and not have any one thing be overwhelming. I stuck to geometric patterns mostly as I think that the color combination is very modern."
"I tried to give the page energy with interesting patterns and whimsy with the cut away circle revealing confetti. This color palette could get very mature or very 1980's shoulder pads very quickly! If I had been allowed to add a little color I probably would have added some pale turquoise blue or even made that gold heart red!"
Marie-Pierre Capistran says, "This page is about my two daughters. I sometimes find it challenging to be a parent (a good mom) and I have to stop and look for the good in my kids and when I see it, I feel like we're good to go again. I wanted to record the good I found lately. I decided to go with a grid design so that I have 9 small frames to play with, to add pictures and lots of embellishment in gold and black. There are so many black Project Life style cards or patterned papers in my stash at the moment that it was easy to find some with words relevant to my story. The gold accents here and there give a sense of value and richness to my page and to my little girls."