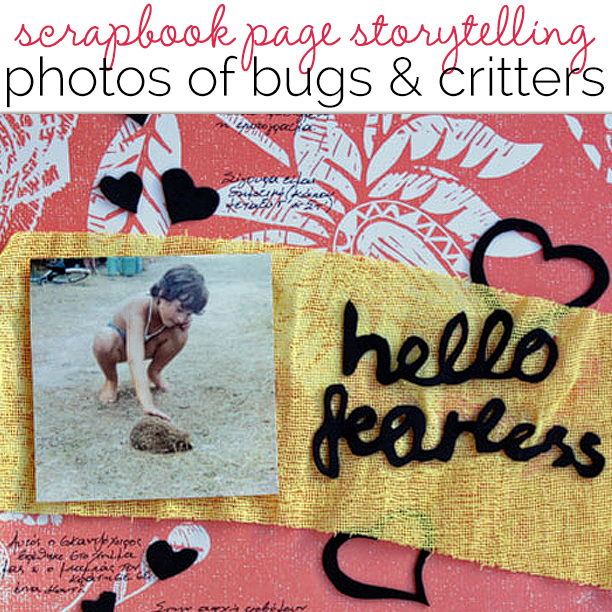 It's never too late to give your photos stories, and here we've got ideas for scrapbook page storytelling with those photos of bugs and critters in your archives.
The Give Your Photos Stories podcast invites 2 or 3 guests to find a photo in their personal archives on a specific topic — and then tell its story. In the process, we talk about other stories on the topic. On one episode we talked "bugs and critters," and here the Get It Scrapped Creative Team shares their own "bugs and critters" stories spurred by the podcast.
[hr]
Kiki Kougioumtzi says, "This is a layout about me and how, as a child, I wasn't afraid to hold the hedgehogs often found at our summer house, something my brother and cousins weren't happy to do. Strangely, hedgehogs weren't afraid of me either and never ran to hide when I was around. I even wanted to have one as a pet, but my parents didn't agreed. Today, I continue to love hedgehogs and would love to have one as a pet. Listening to the podcast reminded me of my love for this creature. This was a story I hadn't yet told in my scrapbooks, and it was about time to do so. To support my story I filled my page with hearts, but in black, a color often associated with fear." 
[hr]
Marcia Fortunato says, "This layout is about robins that made their home on our porch ceiling fan a few years ago. I scrapbooked it in a small album shortly after it happened, but had forgotten about it until I was listening to the podcast. Listening to the stories that the guests shared about recurring wildlife visitors they'd had reminded me of the robins that had come to stay for a few weeks while baby birds were hatching and preparing to leave the nest."
"I used one large photo and three supporting photos to tell my story. I wanted to include a lot of journaling, so I created a block design by arranging my photos and then filling in the large spaces with my journaling. In order to make sure my journaling all fit, I pre-wrote my story on a piece of scratch paper which I laid over top of my arranged photos. In this way I was able to determine the proper spacing for my lines and words. I wanted to keep the focus on the story and the photos, so I kept embellishments to a minimum and used an engaging title."
[hr]
Terry Billman says, "Listening to the Bugs and Critters episode of the Give Your Photos Stories podcast reminded me of the different animal/critter photographs I have taken on golfing outings with my husband. This layout collects those photos. The story told here is about me loving photography and Craig loving golf and how he 'puts up' with me while I stop to take photographs."  
[hr]
Sian Fair says, "I have a guilty childhood secret: I once found a worm in the rockery, tied it in a knot in some kind of misguided experiment, and then threw it away. I was too young to know that it could untie itself, so I worried about that worm for a long time!"
"I love how the podcast encouraged me to go right back in time for this one: even without a picture of the event itself (and that's probably a good thing!) I wanted to tell the story enough to improvise with another 'bow' photo. The random childhood photo of me took on a whole new meaning for this story with its emphasis on my own bow being tied and with that look on my face – don't I look like I might be spilling a guilty secret?"
[hr]
Brenda Becknell says, "I loved listening to the stories from the Bugs and Critters episode of the Give Your Photos Stories podcast. The funny stories and memories were wonderful!  It made me think about my kids when they were little, and how my son hated bugs of any kind.  I knew I didn't have any photos of my kids with real bugs, but then I remembered their ride on the giant bee @ Walt Disney World MGM Studios. My kids got a chance to participate in a behind the scenes tour of WDW MGM Studios, by helping to show how special effects were created for the Honey I Shrunk the Kids movie.  The title Lights, Camera, Action" first came to mind. To emphasize the bee theme, I changed it to Lights, Camera, Bzzzz!.  The background paper reminded me of honeycomb, so I thought that was a great fit for the page, and a couple of stamped bees made some fun accents. 
[hr]
Christy Strickler says, "My husband works for a resort that also does Sea Turtle rescue. The rescued turtles had laid eggs and the hatchlings were ready to be released. We were invited to participate. It's a very special story, and though I hadn't scrapped it yet, I had purchased themed paper to tell  this story. The green vellum is imprinted with sea turtles. I wanted the printed vellum and the photos to take center stage, so I kept my design simple. To add a little shine, I used copper thread and glass beads."