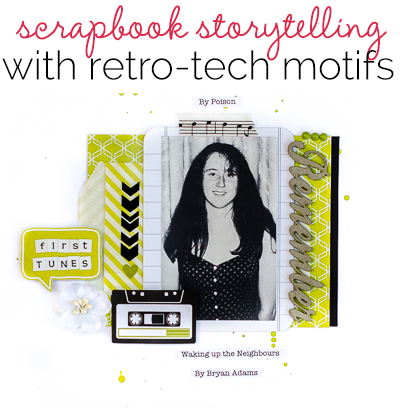 "Retro tech" motifs, images of the technologies of our past, make great complements to scrapbook page storytelling, both for the nostalgic feelings they trigger and for their representation of story.
Because technology changes so rapidly, items now considered dated and even quaint might have been an exciting life-changer for you just a few years ago. See scrapbooking ideas for using retro-tech motifs including the cassette, radio, corded phone, older cameras and more.
In addition to the layouts below, we've collected "retro tech" inspiration on pinterest.  
the cassette tape for a story about the music you listened to as a teen
Kristy T says, "This layout is about the first tapes I owned when I was about 13 years old.  I remember listening to music on my Sony Walkman cassette player."
"I used a retro-tech sticker of a cassette from the 'Him' SN@P sticker set by Simple Stories.  I kept my layout simple and the scale of the items relatively small so the cassette tape sticker would be prominent on the page. The sticker also inspired the color palette of the layout."[hr]
retro cameras for a story about beautiful scenes photographed
Heather Awsumb says, "This page is about the three most beautiful places I've ever been: the Okavango Delta in Botswana, Sossusvlei in Namibia and Sehlabathebe National Park in Lesotho. Not surprisingly they are all in southern Africa since that is where I have spent most of my adult life."
"I used a patterned paper with retro cameras from the The Good Stuff: This Month paper pack by Mye de Leon at Pixels & Co.  The camera motif worked well on a page about photos with minimal journaling."[hr]
an actual keyboard circuit sheet for a story about changing comfort levels with technology
Kiki Kougioumtzi says, "On this page I compare how I used to study and do homework and how my daughter now studyies and the role of technology. Technology gear feels natural to today's students."
"I used a circuit sheet from an old broken computer keyboard. When it was time to put the keyboard to the recycle bin I kept parts of it that I would like to use in my crafting and one of those parts was this circuit. You might be able to find something similar at computer service shops. The design is something we've come to associate with technology and electronics."[hr]
a typewriter for a story about how getting news has changed
Stefanie Semple says, "Here, I reflected on the ways social media and cell phones have changed how we hear the news."
"I used the typewriter as a foundational element in my title cluster, adding deep shadowing to it for a chipboard look. It ties into my old fashioned values and the old fashioned journaling font. The type-print patterned paper represents my inability to switch off the noise that overwhelms me at times. The clusters all contain  inky brushwork or splatters, another nod to the older inky news methods."[hr]
a film projector for a story about changes over time
Audrey Tan says, "This page is about showing the changes in my eldest son through his schooling years. I've always purchased the school photographs and I decided to make a showcase of them."
"I made use of an old fashioned projector here to mimic the 'rolling' changes in my son over the years. I kept embellishments at a minimum and instead made the projector the main focus."[hr]
a radio for a story about favorite listening channels or stations
Sue Althouse says, "This page is about my favorite classical radio station."
"I used a shape from the Silhouette store called 1950s Radio which is still available in the store. Rendering the retro motif in bright colors gives it a more contemporary look to go with my present day journaling."[hr]
a corded phone for a story about monthly calls on the land line
Stefanie Semple says, "For many years my Father faithfully phoned me at 5pm on the first Saturday of every month from Germany to South Africa. This page records that tradition."
"The old telephone motif reminds me of the land line phones we had back in the day that these phone calls were made. I used a soft light blending mode to blend a phone motif into the green background paper. The crocheted telephone and the phone motif are from Pink Reptile Designs' Chatterbox Elements available at the Lilypad."[hr]
robots for a story about a boy
Rosann Santos-Elliott says, "My son and I went to lunch in Greenwich Village after I'd been traveling a lot for work. He wanted to sit down on the bench and be photographed. There was something about the orange bench and his orange scarf that made this a perfect shot. After I took the picture he told me to sit down next to him to take a rest. He is so sweet."
"The washed out colors of the paper, the robots and gears are fun and on-trend. Robots can be mean and scary or sweet and innocent. These had sweet and innocent written all over them just like my son in the photo."[hr]
rockets for reflection about future achievements
Amy Kingsford says, "This photo is a recent one of my oldest son whose wheels are always turning. With the help of his father he's always inventing little contraptions and I have faith that those ideas of his will take him wherever he wants to go."
"I chose to work with rockets on this page because they are commonly associated with the ideas of achievement and innovation and I specifically chose this juvenile space-themed digital kit from Audacious Designs  because I felt like it was a perfect fit for my story."  
What's the retro-tech motif for the next story you tell on a scrapbook page?