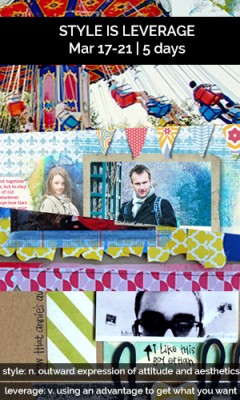 In this scrapbooking process video, I give you a time-lapse look at the making of a scrapbook page very quickly. I made this page last night from about 11pm to midnight. Making a page in a hour used to be a rarity for me, but lately, as I've concentrated on leveraging my own style (and trying to come in with a good showing in the Calvin Ball competition over in the GEt It Scrapped forums)I've speeded up my process—but not by making pages I don't love. They are mine and I love them all.
The voice over in this video points out how the the choices I make and the page I build come out of several aspects of my style. Watch it to understand what the drivers of a scrapbooking style are and how knowing your own style is a tool for efficiency and artistic expression.
The five day class "Style is Leverage" is currently free with a Get It Scrapped membership AND the membership is 25% off through March 17th.