Are you curious about the difference between water soluble mediums? 
This month let's take a closer look at watercolors, watercolor pencils, water soluble oil pastels and Gelatos.  We will look at the similarities and the differences between these 4 water-friendly mediums and get a feel for their strengths and weaknesses.  My hope is you might even discover if you "need" or would like some of them in your tool box.  
adding water to water soluble mediums
Watercolors need water to be applied, so you would add them to the paints before you begin painting.  Adding more water thins the paint making it lighter.
You can add water to watercolor pencils after they have been applied to your surface.  You can add water with a paintbrush and lightly blend the colors.  You will often see some of your pencil sketching left behind.
Water soluble oil pastels will also blend by adding water to them after you have applied them to your art surface.  You can use a mister to spray them with water and blend them with a finger or rag.  You can also use a paintbrush with water to blend them together.  Some brands of oil pastels also work well dipping them into water and then coloring with them, or coloring on a separate pallet and adding water to them then using a paintbrush to apply them to your surface.
Gelatos blend when you add water to them after you apply them to your work surface.  You can mist them or use a paint brush on them.  You can color Gelatos onto a pallet and add water to them turning them into a paint on the side before you add them to your art work as well.  
using water soluble mediums dry 
Watercolor paints can not be used dry.  You could use liquid watercolors straight out of the tube but the cost alone for the amount of paint you would need for even a small project would make this problematic.
Watercolor pencils can be used dry for beautiful light effects.  You can add shading and lightly blend colors together adding color to stamped images, doodles and more.
Water soluble oil pastels can be used dry with thick rich coloring effects.  Oil pastels can blend together when used dry, the result is heavy thick color that builds up, adding depth, and richness onto art work.
Gelatos can also be used dry.  They can be colored onto surfaces for lighter, bright color.  There is some transparency to their color so they do not appear as thick as oil pastels.  
using water soluble mediums through stencils (wet and/or dry)
Watercolors can be used through a stencil, if you use more water you will get bleeding under the edges.  You can use a dabber or sponge to pounce the color in or even use a dryer brush the color might have some variation to it but you will have less bleeding.
Watercolor pencils can be colored over stencils or you can place a stencil under your work and run your pencil over it for a different look.  You can add water after you remove the stencil carefully staying in the edges or you could add water when the stencil is still in place but you would have some bleeding as the water pulls under the edges of the stencil.
Oil Pastels will work with stencils.  You can work with oil pastels dry with stencils over your work.  You can try adding water before and after you remove the stencil. 
Gelatos will have all the same options as the oil pastels, working with stencils dry and wet.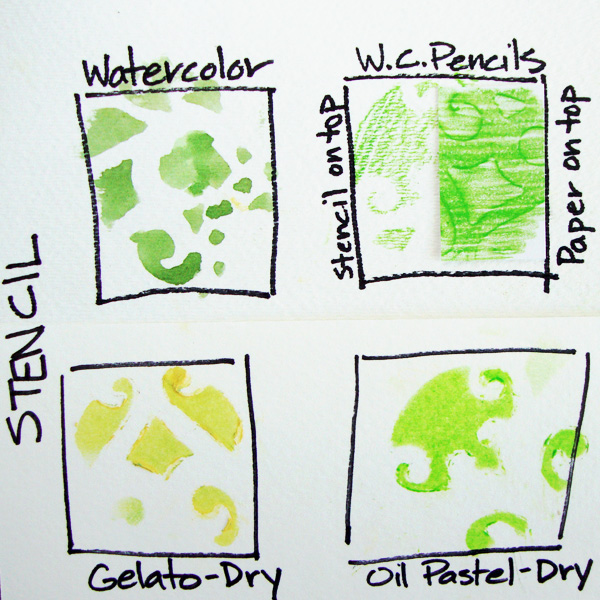 using water soluble mediums with stamps
With the mediums wet all 4 of them can be used with stamps.  I would recommend thicker foam stamps that have less detail as none of these mediums will capture tight detail well.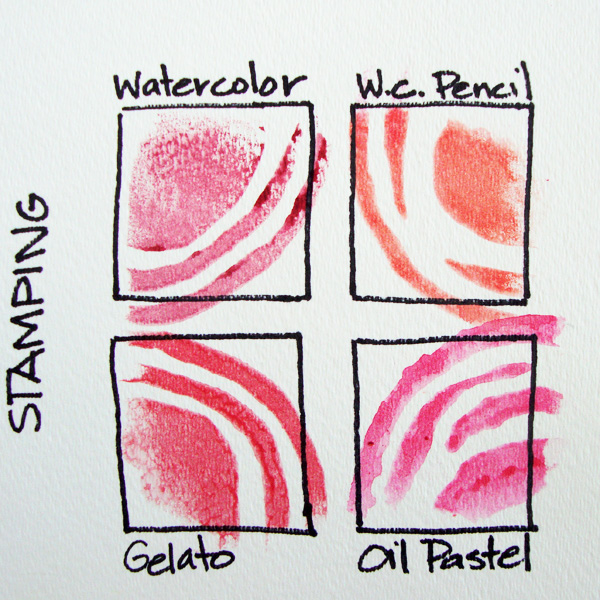 Watercolor pencils work beautifully after you have stamped adding very detailed color.  
You can add watercolors, oil pastels and Gelatos onto stamped images as well, but all are a little harder to get into smaller areas.  With good brushes and a steady hand water color paints are the easiest of the three.  Oil pastels and Gelatos were just not made or intended for fine detail.  You could, however mix them off to the side with water and add them with a small detail brush for a watercolor look.
using water soluble mediums for misting 
You can bottle watercolor paint and use it as a mist.  Because the color is water based the effect is very light and will bleed, but is an option for an airy look.
Both water soluble oil pastels and Gelatos can be mixed with water, added to a spray bottle and used as a mist. 
This is not an option with watercolor pencils there is not an easy way to combine them with water off to the side and get them in a mister.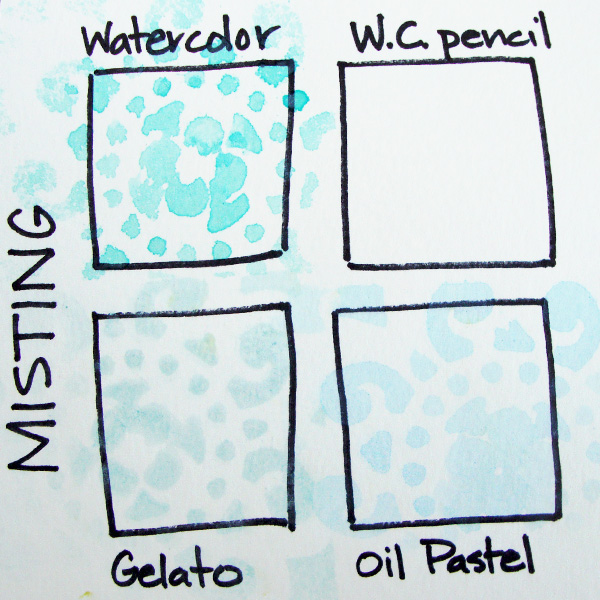 water soluble mediums + your scrapbook pages
Kristy T created the background of this two-page layout about her son's love of his pajamas using water soluble oil pastels on watercolor paper.  She applied them directly to the page and then added water with a paint brush.
Brenda Becknell used watercolor pencils to create the background for this bright layout about he granddaughter. She added the pencils directly onto white card stock, spritz them with water, then used a foam brush to blend them together.
Amanda Jones created her background using watercolor paints. She used splatters of color on top of wallpaper to create her unique look.
Katie Scott created this layout using a combination of supplies from Faber Castell including Gelatos.
[mixedmedia]
[mhoughton]