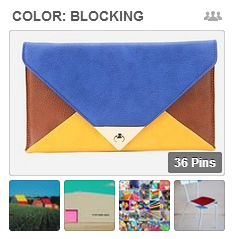 See the Color: Blocking pins on  the Get It Scrapped Pinterest Boards for scrapbooking ideas you can use on your own layout designs.
why color blocking.
Color blocking combines clean lines and strong color contrast for a look that has drama and impact.  This makes color-blocked fashions and art a great place to look for design and color inspiration to use on your scrapbook pages.
go deeper.
These Get It Scrapped articles show you exactly how we've put color-blocked inspiration to work on scrapbook pages: 
see it done.
Deborah Wagner used Francisco Gualtieri's The Green Door, a photo on Flickr pinned to the Get It Scrapped Color Blocking Board as inspiration for this scrapbook page. 
Deborah says, "I loved the bright colors and the repetitions of rectangles in Gualtieri's photo."
She used this inspiration on her 2-page layout, by mounting a series of photos on 4 rounded-corner rectangles. Each rectangle is cut from a different color of bright tone on-tone patterned paper. 
your turn.
Pick an image that speaks to you from the Get It Scrapped Color: Blocking Board, use the links and inspiration above for examples, and put home decor ideas to work on your next page. 

Deborah Wagner
Deborah lives in a small town in Minnesota with 3 lively teens and her husband of 25 years. She is very passionate (her kids would even say obsessed) with digital scrapbooking and spends most of her free time scrapping or learning about design, color, and artsy Photoshop techniques.
Deborah loves documenting her family's lives, but  also uses scrapbooking as an emotional outlet. As a result her pages often take on a life of their own!