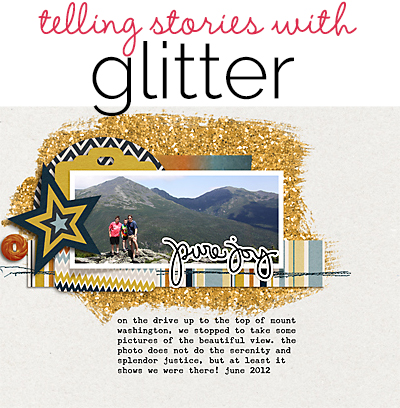 Glitter is currently trendy for makeup, clothing, accessories and even home decor. It catches the eye and it's a great support to lots of scrapbook page stories. 
1. add glitter to a "landscape" for a sense of the extraordinary
Celeste Smith says, "This page is about a trip up to the top of Mount Washington with a stop for photos of the view. I started with a digital paint smear and applied a gold glitter style to make it glittery. The smear of glitter acts as the base for the photo. It adds nice texture to the page. I think it's unexpected because you'd never find glitter like this in nature, and this is page about the great outdoors. As well, when you think of boys, you normally don't think add glitter!"
2. jazz up a page about yourself with glitter
Marie-Pierre Capistran says, "This is a page I made during a class given by Big Picture Classes called PLAY. I was very inspired by Stacy Julian, Ali Edwards and Tracey Clark to add more play time in my life. I added big, chunky glitter alphas for an element with strong. It's the first thing we see when we look at the page."
Audrey Tan says, "This page is about a selfie project that I'm doing this year. After each week's seflie, I make a page with it. The page is littered with glitter to add both texture and flair, and the title is made with glitter alphas."
3. add glitter to a page about a celebration
Heather Awsumb says, "This page tells the story of how my friends and I wore our clothes backwards to "not celebrate" another friend's birthday. I used a digital glitter style in Photoshop Elements applied to a chevron brush and star-burst circle. While the glitter is subtle it forms a visual triangle (the distressed dots, behind the pink circle and the chevron stamp) and contributes to the overall celebratory mood of the page." 
4. scrapbook a night time story with glittery stars
Ashley Horton says, "After Christmas dinner, my son and his aunt sat down to read one of the books he received. I created and cut a star shape on my Silhouette Cameo, using double-sided adhesive.  After my shape was cut and adhered to the layout, I sprinkled over the adhesive with Silhouette glitter.  I wanted to add a quiet, night time effect to the layout, by using the silver glittered star shapes, which support this nighttime story." 
5. emphasize a "silver lining" story with glitter 
Katie Scott says, "My son is having an especially difficult time with his first year of middle school, and we are all trying to stay positive–looking for silver linings as the title saying emphasizes. I used Glitter Glaze paint to adhere glitter to the background page and used an overlay cut with my Silhouette Cameo so that the glitter showed through in the negative spaces of the letters."
6. capture the beauty of a fall day with gold glitter 
Michelle Hernandez says, "The photo is of my daughter who often disregards my pleas to stand still and smile. I have a lot of photos of her walking away from the camera, and this one is a favorite. The page started as one thing and turned into something completely different (and awesome) at the end. I started by running a Montana acrylic paint marker over the page and layering die cuts and printed chipboard pieces. A friend made a silhouette file of leaves for me. I added glitter around the edges of the leaves (and the small droplets on the page) for extra dimension and texture.