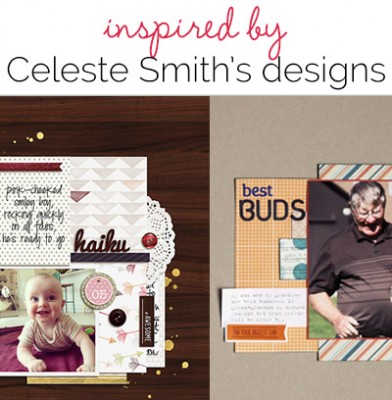 Studying scrapbook pages by others is a great way to get scrapbooking ideas for growing your own style. In this "study" look at how the other scrapbooker has used product and design principles and how she's handled the 5 parts of a scrapbook page (canvas, photos, title, journaling, embellishments).
Our creative team studied pages by Celeste Smith and shares what they took from this study. This is not a LIFT of one page. Rather they made pages inspired and instructed by what you they saw in a collection of her work.
see some of Celeste's pages.
[toggle title_open="Hide" title_closed="See Celeste's pages yourself" hide="yes" border="yes" ]
Take a look at Celeste's work on our Chanelling Celeste Smith Pinterest Board and get inspired. 
Here, also, are a few pages by Celeste from our blog posts.
[/toggle] 
see our pages inspired by Celeste's designs
cardstock backgrounds and simple embellishment clusters
Susanne Brauer says, "This is a page about my husband's maternal grandparents."
"What caught my eye about Celeste's pages were large circles, plain cardstock backgrounds, and generally restrained use of embellishments. "
"For this heritage page, I used circles on a neutral ground and layered other prints on top. I repeated circular elements in more subtle variations of punched paper circles, dotted paper and round alphabet stickers.   The large circled paper gives the page drama, but the context provided by other elements keeps it from becoming playful."
border strips and short stripes
Stefanie Semple says, "I have had Rome on my bucket list since I first developed a bucket list, with visiting the Colosseum ( or Flavian Amphitheatre as it should be known) a top priority."
"Celeste often adds strips of patterned papers at the top and bottom edges of her canvas, frequently using striped prints trimmed to run in many short lines (vs. a few long ones). The photos always steal the show on Celeste's layouts, but her titles are also prominent. She often embellishes with buttons and stitches down her paper strips."
"Inspired by Celeste, I've got a prominent photo, clear title, striped prints, border strips, stitching and buttons. As much as I was channeling Celeste, I think this is close to my own style too." 
white space, matted photos, and asymmetrical design
Brenda Becknell says, "This is a random photo of my dad and my grandson. I love the smiles on their faces."
"When I looked at examples of Celeste's work, I noticed several things: 
paper strips at the top and bottom of the page
white space
matted photos
a grouping of papers, embellishments, photos and title, often placed off-center on the page
journaling in a typewriter font"
"I used several of these techniques on my page, placing my matted photo on top of layers of patterned paper, and placing the grouping on the lower right hand side of the page.  I cut some of the papers into banners (also a technique often used on Celeste's pages) and added journaling and my title on the same grouping."
layered foundations
Andrea says, "This page is about a fun memory of our summer vacation."
"I like the way Celeste uses layering and white space."
"I used a composition with layering and white space with the different that blended my photos with texture to add my own artistic touch."
blocked foundation
Rosann Santos-Elliott says, "My son loves to be photographed. As the title here implies, it doesn't have to be a special occasion to take a photo. I love photos like this because the story can be about anything."
"I happen to have several pages inspired by Celeste Smith. This layout in particular was inspired by "Lila," a pink layout with the photo of an adorable girl. Her design is set up in a blocked or grid arrangement, but there are also elements off the blocked area."
"That is what I tried to accomplish here – a grid foundation with some elements off the grid. I like this technique because it's simple and classic but the the wheel and hearts elements add visual interest. The simplicity does not compromise the style."
photo and title united
Katie Scott says, "My old dog Dandy loved when we asked any sort of question. Uur new dog Jessie is still getting used to us and even her name, so when she tilted her head for me, I had hope Jessie will come to love us as much as our old dog did."
"After studying Celeste's pages I noticed six things that I tried to incorporate into my page: 
Strips of paper at the top and bottom of layouts adhered down with machine stitching
Craft, white or grid foundation paper
A messy block layout design
The title goes either within the messy block or very close to it
Use of mist or a splatter of something around the messy block design
Minimal embellishments – usually buttons but I used flair"
 "I also happen to know (from a Masterful Scrapbook Design Office Hours) that the very bottom strip of Studio Calico paper Compilation from the Anthology line is Celeste Smith's favorite scrapbook paper of all time – so I had to use it on this page."