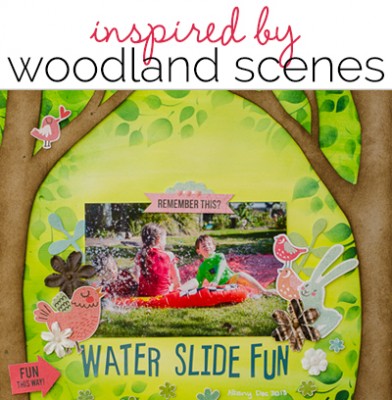 Woodland motifs–like acorns, deer, owl, fox, forest scenes, and stag–are great for scrapbook layout designs of outdoor scenes, holidays, and child play. There's plenty of woodland inspiration to be found in decor, storybooks, stationery, and even fashion.
The scrapbook pages here look to more than the motifs for inspiration — rather, they pull from the styling of woodland scenes we've found. From sweet storybook illustration to Nordic Modern prints and bright graphic woodlands, there is a great breadth in styling of these scenes.
See our woodland Pinterest boards for more inspiration: WOODLAND MOTIF  and WOODLAND STYLE. 
woodland framing with stenciled leaves and hand-drawn tree trunks
Kristy T says, "This page is about the fun my children had in the front yard of my parents' home playing with a double water slide."
"I took my inspiration from a sweet woodland illustration full of green. Three cute animals are in the lighter center of the page and viewed from above, tree branches framing the vignette. I chose this piece because it reminded me of the lush, bright, green grass in the garden with the trees around.  The garden is frequently visited by birds and sometimes rabbits, so it was fitting to add creatures to my page even though it is not a traditional woodland setting."
"I created the page by painting fresh lime Dylusions spray ink like a watercolour. I diluted with water to get  a softer but still bright look.  After this had dried I inked around the edges of the layout like I was creating a vignette for a photograph.  I sponged distress ink through the leaf stencil to create a frame around the page and created the trees by hand to frame the page and highlight the photograph.  I arranged the creatures to be looking towards my photograph, and I scattered flowers to create a very loose–almost circular–frame around the photo and title."
a border of woodland motifs
Kiki Kougioumtzi says, "This page records a little excursion we took. We found lemon trees, and my daughter was excited to pick lemons from the trees all by herself."
"I was inspired by a sweet woodland illustration full of green. Three cute animals are framed by tree branches and we look down on them from the sky, and the motifs include mushrooms, deer, and trees. I used those motifs to make a border below my band of photos and woodgrain in my title. I mimicked the framing branches by tearing my background paper and letting everything else show through. I also liked that the focal scene was brighter and vignetted by darker greens toward the image edges, and I tried to reproduce this." 
woodland silhouettes and a single color
Sian Fair says, "On this page I record that my daughter has admired the fox motifs in shops currently. When we discovered a fox hat pattern in my new knitting book, I set to work."
"I was inspired by cushions with colorful symmetrical silhouettes of woodland animals, and decided to take on the challenge of using one strong color on my page. I tried several different colors, including a deep orange and a Kraft, before settling on the strong contrast of black and white. To create the motifs I cut shapes from the "Grandma's Attic" Slice Design card, cutting each shape in a variety of sizes so that I could experiment with the proportions and strike a balance so that the photo wasn't overwhelmed. Keeping everything in two colors felt like a nice idea in theory, but once I started pulling the page together I discovered I needed a little bit of orange (and then a little grey, too!) to liven things up, and the lace was thrown in for texture. I'd definitely like to experiment with this look again in a different color palette."
inspired by a woodland shadowbox vignette
Stefanie Semple says, "I loved visiting Germany and seeing how they decorate for Christmas. The reindeer in my photo caught my eye and I snapped a shot."
"My inspiration came from a vignette of a plastic deer figurine in a wooden shadowbox backed up by a patchwork of floral prints. I liked the simplicity of the design, the wooden frame, and the cute deer against the pieced background."
"I used a portrait-oriented photograph and made a shelf below it with ribbon. I added a cute pieced deer embellishment and added a scarf to it to match that in the inspiration piece. I resized and placed toadstools around the deer's feet, added my journaling and the date centered above the photo, and used woodgrain paper to echo that of the wooden frame. I kept the design simple, so one would want to read why this photo was taken." 
inspired by a pillow with woodland appliques
Katie Scott says, "Our new dog loves being outside, and I adore this photo of her looking out the window. In fact, while I was making this layout she kept trying to get my attention to let her outside!"
"My inspiration piece was a pillow with colorful woodland appliques that reminded me of Doodlebug brand patterned papers. I store some of my patterned papers by manufacturer, and in my Doodlebug pile, I also had papers from Bella Blvd. and Sassafrass that coordinated with a cutesy woodland motif."
let your woodland critters represent a story
Christy Strickler says, "This page is about how my son made his own bag to collect Valentines during his first ever homeschool class party."
"I was inspired by Jan Brett's picture books, which I read to my son when we was the age shown here. On each page in these books, the main story is placed within a shape (like a rectangle) along with the text. Outside of this shape, another story is taking place which often features small animals. Only illustrations are used to tell this story, but the story always compliments the main tale."
"To get this look on my page, I placed the photos of my son and the journaling within a square. I framed it, just as Jan Brett does, but I chose to move the block to the left so that I could accommodate the size of the elements in my side story. I used stamps of woodland animals preparing for a party. I don't have a lot of pictures of my son's classmates or the refreshments. Having this side story of woodland animals represents that portion of the party. Most of the papers I used support the Valentine's day theme, but I also wanted some natural elements like those Jan Brett uses. I added paper pieced trees and used wood print paper and cork to achieve that."
use wordplay and woodland animals for a fun moment
Audrey Tan says, "While organizing my photos, I found this particular one of my boys when they were younger–just hanging out in the kitchen."
"I was inspired by a woodland illustration from Roger La Bourde that includes birds, owls and a fox all rendered in simple shapes and bright yet soft colors.  I added owls with digital brushes to my page and used a play-on-word of 'Owl Remember' as my title.  
arrange woodland critters in a scenic cluster
Marcia Fortunato says, "This layout is about my happy little grandson at seven weeks old. I was inspired by a fabric with a repeating woodland scene of critters around a tree on a white background. I liked the cute woodland creatures and the overall color scheme."
"I used a background paper with colors similar to the inspirating print. I had lots of childlike woodland animal embellishments that went nicely with photos of my smiling grandson. I liked the clusters of animals on the inspiration piece and mimicked that look on my layout by clustering several motifs in the empty corner of one photo. I balanced the page with the single deer after the title."
inspired by an improbable flowering tree from a folkart painting
Deborah Wagner says, "This is a photo of my niece from over 10 years ago. I love scrapbooking photos in non-chronological order and coming across a photo like this."
"I was inspired by a folkart painting of a girl and animals around an improbably flowering tree in rich colors. I wanted to get a painterly look to my page so I used several Photoshop filters on the photo, the digital elements, and the papers (Palette Knife, Poster Edges, Oil Painting, and Rough Pastels).