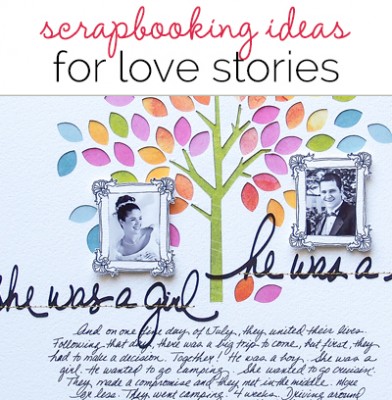 I'm a sucker for a love story and the Get It Scrapped Creative Team has delivered in . . . hearts. Check out their stories and get inspired to tell your own.
Amanda Robinson says, "I created this layout to document thoughts about our wedding and how it was unique to us. I used traditionally themed elements like hearts and confetti, but in a bright color scheme which is not typical of a wedding theme. It supports the idea that, yes, we got married, but it was not a typical wedding. 
Journaling:"Our wedding day was not about romance. It was not about our family or friends. It was about us. It was about having fun. It was about celebrating all the things that bring us together as a couple. Strength. Similarities. Differences. Our life together. I'm so glad that we stuck to our decision to invite only our closest family and to do all of the things we love, rather than what everyone else expected. I love you xxx"
Stefanie Semple says, "I have wanted to tell the story of our first date for a very long time and am glad to have finally done it. I included a photo that I googled of the movie poster, other than that the muted shades of grey, red and pops of turquoise add a little zap of colour from the neutral back ground paper that I used for the journaling. The story is what this layout is all about so I wanted to make it easy to read. I created a visual triangle with clusters, top left with the title, this also helps to set the scene. The eye then moves right to the photo where I have added the date back in 1987. The male and female icons, in the bottom left cluster are nondescript, because I didn't want this to be an overly romantic layout, even though there are hearts as a motif they are small and subtle as our love story was only beginning.  
Journaling: "His plan was to invite me to a horror movie first, knowing that I would decline it and then suggest the Bond movie, trusting that I would feel obligated to say yes to that option. Little did he know that I was really wanting to see the Living Daylights and having it be a date was an even better option.
When I told my friend, Allison at Varsity she told me not to lead him on if I wasn't interested and my famous last words to her were: "It's not like I'm going to MARRY the guy!"
In true Andrew style, he left things to the last minute so instead of going to the 8pm show we caught the 10 o'clock at the Golden Acre.  My mother wanted to meet him so he came around for supper first and arrived 45 minutes late. He said he hadn't expected the traffic to be so heavy, and he didn't want to appear too eager. I thought he wasn't going to make it and was sitting watching tv with a cat on my lap – which is why it was my Mother that answered the door when he eventually arrived. He was a typical student and loved having a home cooked meal.
After the movie we chatted in is car for a bit and then he came home with me for coffee.
Little did I know that would be the first date of many, and that 25+ years later we'd be married and responsible for Allison meeting her Hubby as well." 
Katie Scott says, "A friend noticed how much my husband does for me. This page is about that conversation and doubles as a "thank you" to him to let him know that I really do appreciate all that he does for me. I love the trendy gold color right now and I think it signifies that the relationship I have with my husband is valuable.   I used hearts for love.  I also used coffee cup stains and a doily because these motifs tied in with my story about coffee and my husband's excellent service.  I also used ledger paper because my husband is detail oriented and the brush stroke title and coffee cup stains were more messy – like me."
Journaling: "Friday Morning January 17th, 2014 and I had an internet phone conference scheduled.  Charlie had just returned from dropping off the kids at school.  And I was a bit frantic about getting my computer all set up so I called in an order to the kitchen – "Charlie!  Get me a pot of coffee and a pot of tea and a glass of water!  Right now Please!"  And I already had my headset on and my friend said "Boy!  He really does take care of you." 
Terry Billman says, "My husband and I vacationed in Waikiki earlier this year visiting our daughter and her family. We decided to make it a romantic vacation and stay at a hotel with an ocean view. This photo was taken on the night we took a midnight walk on the beach in Waikiki. In order to maintain the ambience of the romantic walk, I used a midnight blue paper and placed a white mat behind the photo to provide contrast. I focused on the photo and the journaling; therefore, there is minimal embellishing."
Journaling: "We took a midnight stroll on the beach in Waikiki. We walked hand in hand in the darkness, the moon providing just a little light on the horizon, the waves crashing on the shore. Craig stopped, picked up a shell and made a heart in the sand and said " C and T FOREVER."  I was reminded of our vows 27 years ago. FOREVER. At times twenty-seven years seems like FOREVER. Then again, it went by so fast. We are a little older. We have more wrinkles. We have more patience. The small things are meaningful in our lives. He still tells me he loves me and how beautiful I am. Our bond grows stronger each day, each year. Still holding hands. A lifetime of love, FOREVER." 
Marie-Pierre Capistran says, "This page is about our Honeymoon. I wanted to go on a cruise and he wanted to go camping. I wrote the story so that it appears funny to the reader. For this page I was inspired by Wilna's page. When I saw her tree I immediately thought of a relationship and I wanted to frame our individual wedding head shots  and put them either side of the tree to symbolize the opposition I'm talking about in the story. I made my page white with a little bit of black, to give it a wedding feel and I wanted the tree to be colorful because it's a fun memory we like to tease each other with. The title is also about duality and opposition and it's the first part of the song "Skater Boy" by Avril Lavigne which we were listening too at the beginning of our relationship. The boy/girl theme also relate to the more boyish idea of camping and the more girly idea of cruising."
Journaling: He was a boy. She was a girl. And on one fine day of July, they united their lives. Following that day, there was a big trip to come, but first, they had to make a decision. Together! He was a boy. She was a girl. He wanted to go camping. She wanted to go cruising. They made a compromise and they met in the middle. More or less. They went camping. 4 weeks. Driving around the National Parks of Western USA. She had to buy a tuque. They spent many more nights in hotel rooms than he had plan to. She ended up at the chiropractor's office with a stiff neck. And then came the 7 days, cruising around the Caribbean Sea. It was an awesome cruise. The first of many more. They haven't been camping since then though. 
Amy Kingsford says, This page appeared in Masterful Scrapbook Design's Telling Stories Issue. The story in my page "Chick Flick" is somewhat of a testament of my husband's love for me–if our love were measured in "chick flicks. The color scheme and embellishments I chose all support my story—the black and white makes me think of the movies and also complements my black and white holga-style photo.  I then infused pops of pink throughout the page to create a girly feel—a detail taken straight from my story.   Finally I used the brushwork along the sides to create a bracketed feel and to sort of frame and isolate my story on the page."
Journaling: "I've never been what most people would call a "girly-girl." I've always gotten along better with boys, I hate shopping for clothes and I loathe the color pink! But when it comes to a good old-fashioned "cry-your-eyes-out" love story–I'M GAME! And because you love me–so are you. You sat through the likes of the Notebook, and Last Song, through A Walk to Remember and Message in a Bottle without a single snide remark, but at Dear John is apparently where you drew the line! As we sat back and watched the movie together on our couch I could tell something was bothering you, so I asked, "Did you want me to go back?" Thinking you had missed something. "No," you replied, "I guess I'm just wondering why all of these movies are the same?" I had never really thought about it before, because the movies themselves were all very different to me, but they were in fact each adapted from books by Nicholas Sparks. And to tell you the truth I was somewhat impressed that you would even pick up on something like that. When the Lucky One hit the theaters I begged you to go. You were reluctant but agreed on one condition– "As long as that Nicholas Sparks character didn't write it." I assured you that he did not–so we called the sitter and bought the tickets. As the movie ended, I wiped the customary tears of joy from my face while you fought back the urge to poke fun. And we both looked up at the screen just in time to see the words: ADAPTED FROM THE NOVELBY NICHOLAS SPARKS. In my defense–I really didn't know!"