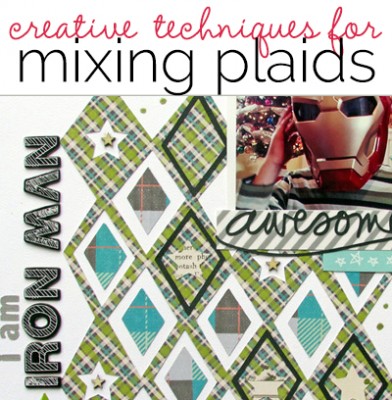 Plaids, checks, and prints have been trending in fashion for the last couple of years, and designers continue to get creative with plaid designs and mixes in 2014.
How creative can you get with plaid patterns on your scrapbook pages? We've got ideas for you to copy or use to jumpstart your own original designs. 
[hr]
piece plaids to run at different angles and paint over the seams
Christy Strickler says, "This is a photo of my husband, son and family dog."
"I cut three triangles from a plaid print and pieced them, placing each so that the print lines are all running at differing angles.  I painted over the gutters between the pieces with a sheer acrylic and shimmery paint . The sheer paint allows the pattern to show through but adds interest and a border between the pieces."
[hr]
Cut a grid of diamond shapes from plaid and fill negative spaces with a different plaid
Ashley Horton says, "One of our son's Christmas presents was an Iron Man mask, which he loved!"
"Instead of designing with a superhero motif, I used plaid patterns for a masculine/boyish style.  I used a diamond pattern from the Silhouette store and to cut a grid of plaid. Notice the two plaid prints — one is dense and narrow while the other has wider lines. I cut smaller diamonds from the wide print and placed them in some of the negative space spots of the diamond grid."
[hr]
Make your own plaid with woven ribbons and strips
Celeste Smith says, "This page is about a dinner date my husband and I shared while our boys were at camp."
"I created a plaid background using strips of paper and stitching. In order to achieve this look digitally, I created a 24×24 sized background and using the Grid layed the papers and stitching evenly along the lines. I merged the lines as I went. Then I rotated all of the papers and stitching 45 degrees. I dragged the result onto a 12×12 background. Clipped papers to the paper strips and built my page on top."
[hr]
Make your own plaid with copic markers
Michelle Houghton says, "This layout about our simple birthday traditions.  I created an artsy plaid background for all my elements to sit on top of using Copic markers. You could use any medium to create a similar look."
[hr]
Build a border of mixed plaids
Ronnie Crowley says, "This page is about memories of summers past with my sisters at my grandparents house."
"I don't often use plaids. To mix several without going too far away from my normal style I used small cuts of plaids and added them to a 2″ wide border. The cuts are made with angled lines and placed narrow gutters between. I added a balancing strip of one plaids along the right edge.  in the other ones I had chosen."
[hr]
Use one plaid block and repeat the pattern in the border
Sian Fair says, "We first visited the Scottish city of Edinburgh as a family about twelve years ago now, and we loved it: we didn't know then that our son would end up studying there."
"I wanted to put a fresh spin on this distinctive check: I had two aims – to use plaid so that you knew it was there, but so that it wasn't completely overwhelming; and to give my page a fresh modern feel: it had to look like a plaid for today!"
"I looked for a check patterned paper and when I found one in a Halloween collection I knew that would help me steer away from a traditional look. To stop my plaid from taking over, I used it as a border and I chose the smaller sized version of the same print from an 8″x8″ paper pad to add to the page itself. Then I prettied it up with a ribbon in one of the plaid colors and I added some Scottish thistles cut from another of the papers from the Halloween line. It's plaid, but it's not too scary."
[hr]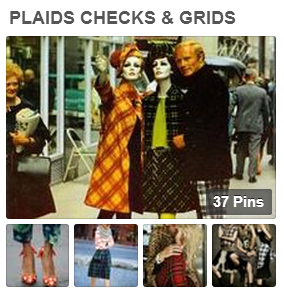 Looking for more ideas?
 We're pinning plaids on Pinterest. Follow the board.