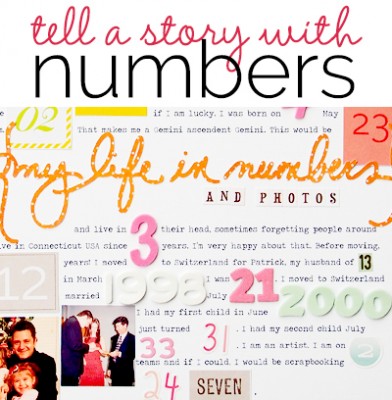 A successful scrapbook page does four things. It: captures the viewer's attention, controls the eye's movement, conveys information, and evokes emotion. The traditional way to do this is with a balanced combination of text, photos, color and motif. Here's a way to shake up your approach: rely on numbers to tell a story with power.
Lise Mariann Alsli says, "This page is about our little, big girl who started school this fall. She is so proud when she comes home with new homework to do and new songs to sing. The picture is her first homework."
"I wrote about one of the songs she learned when she started school. It is a math song playing with numbers: 1 and 2 is 3 and 3 and 2 is 5, nothing hard about that. If you have 8 apples and you give away 3 you have 5. Give one to Tor, then give 3 for mum. The last one rolls in a hole. You have none." (It rhymes a little bit better in Norwegian, I promise)"
"I used numbers both in my journaling, in my title, and in the yellow patterned paper as a subtle way to show the theme of the page. I like titles that just give a little hint about the story to make the readers actually read the story."
Stefanie Semple says, "I am wrestling with my concept of an ideal weight, and this page documents some of my thoughts as I am processing this issue once again."
"I wanted numbers on the page to be both bold and subtle, hence the black stamped numbers. I divided the two numbers with the subtitle of "my ideal weight" cuing context and adding another pop of color. I center-aligned the journaling underneath the numbers to act as a visual shelf. I love the overlay with its messiness, rather resembling my inner turmoil. The paper with the hot air balloons echoes the feeling that these numbers are out of reach."
Marie-Pierre Capistran says, "This page is summarizing my life with numbers and pictures, going from my birthday, to my wedding date, to the age I was when I had my babies, the number of months that are between my brother and I, etc. Random facts. I integrated the numbers and the photos in my journaling, making them stand out by using various sizes, fonts and colors." 
Ashley Horton says, "Several years after my grandfather passed away, my grandmother was moved to an assisted living facility, and their home, in which I spent most of my time up until young adulthood, now sits empty."
"On my last visit to pick up some things from the house, I snapped a photo of the outside. I knew I wanted to use the address as the title of my layout.  I chose a background paper printed with random numbers. The address is the title of the page, and large numbers are cut from a dark woodgrain print with stitching added to make sure they stand out."
Carrie Arick says, "My husband's reaction to being called out on lying about his age is always colorful, so I wanted to document the silliness."
"27 is a key component to this story and is also a big whopping lie, so I used a big 27 as my title. I used the tape measure borders and the clock stamp to illustrate the idea of a pattern occurring over time. I then used small bits of ephemera featuring numbers reinforce the theme. To play with numbers I have used 2 photos and 7 elements on the page with numbers (not counting the journaling, of course)."
Kristy T say, "While we were decorating our Christmas Tree on December 1st, my son, who is 3 years old, kept asking me when it would be Christmas.  He still doesn't have a great understanding of time in terms of days and months so I just imagined how many times I would be answering that question in the next 24 days."
"Numbers were a really big part of this story so they played a large part in the supplies I used.  I wanted the number 6 to be prominent and used a large chipboard number colored with a paint pen.  I wanted a background with all the dates leading up  to Christmas, but didn't want this to dominate, so I toned the paper down with a couple of coats of  white distress stain.  This warps the paper a little bit so I adhered it to another piece of card to flatten it out.  I also used a strip of numbers and scalloped border to create a shelf for my photo."
Marcia Fortunato says, "My parents have been married for 60 years, and the party we had for them became a group effort, with nearly the entire family pitching in to help. In order to highlight the number of years that my parents have been married, I used the number '60' in the title. I also emphasized how everyone helped with the celebration, using a list with numbered tasks. 
Debbie Hodge scrapbooked a childhood photo of her with her brothers using the number 3 as title, embellishment and home for her journaling.