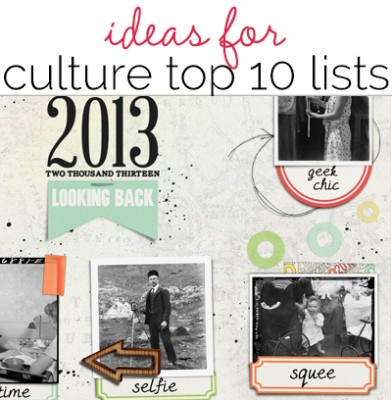 Record the times you are living in with a scrapbook page that zooms in on a particular cultural aspect of the past year.
Consider what was on your radar in 2013 and how it got.  Think about the items that most struck you on the news or in your social media feeds. Or record the entertainments you enjoyed during this particular year or even the new words that arose as a result of 2013 culture. We've got scrapbooking ideas below that cover:
in the news    |    on my radar    |    on the television    |    in the lexicon    |    on the video game screen    |    on the page 
in the news
Kiki Kougioumtzi says, "I tried to capture what I think played most on television news in 2013–all the things that people talked about all the time. I had a general idea in my head and used Google to find headlines from newspapers and find television show ratings. I also used Google to find images for the page."
"Because I wanted the photos to look like newspapers at a newsstand, I attached them to strings running across the page and labeled each with a one- or two-word headline." 
Ronnie Crowley says, "This page is a review of top news events in 2013. I searched the internet and found my list on Wikipedia. I edited it down and added the birth of the royal baby which was a key story for me."
"To showcase these stories and photos that represented them, I used a digital template with an oversized '2013' to which I could digitally "clip" photos."
in your social media feed
Stefanie Semple says, "I am using social media more than ever and this page represents that and stories that were on my radar in 2013. I generally don't watch the news on the tv, only checking stuff on facebook or chatting with people. I visit Facebook at least once a day to play Candy Crush and Farm Heroes, to see what my friends are doing and to re-post cute cat pictures and snarky ecards. I don't  watch too many movies, but  managed to watch all six seasons of Castle, another first for me so that is also represented."
"Most of the images came from the internet, thanks to Google image search. I used a grid design that houses 12 spots just because I wanted to play with a couple of empty places and decorate them. I love working with grids, I love the neat control. I had a lot to say so made a feature of the journaling spot, choosing a fairly high contrasting color. The title needed to be there, so while I allocated it real estate on my page, I used see-through alphas with low visual impact and photo anchors for visual attachment so that it didn't draw too much attention from the photos."
in the lexicon
Carrie Arick says, "Because our culture is always evolving, our language follows suit. On this page, I highlighted ten words added to the Oxford Dictionary in 2013. I chose the words that I encounter regularly."
"For images, I used Flickr Commons and Wiki Commons to find Public Domain or Creative Common licensed images because I didn't have personal photos that would work for this page. Because none of these words, with the exception of cake pop, are new concepts or things I thought it would be fun to use old photographs to illustrate the words instead of writing out the definitions.  Creating my page this way mean there was a lot of visual information to take in, so I organized my by using arrows and the red tags to control the flow and left white space for the eye to rest."
on the television
Brenda Becknell says, "I admit to being a TV lover, and highlighted my top 10 TV shows of 2013 here.  I love the chance to add a bit of pop culture to my albums. It will be fun to look back at this in a few years.   All I had to do was check my DVR to see which series I had set to record, and I had my list!   To go along with the television theme I diecut a large TV, and then printed my journaling on a transparency to fit over the television 'screen.'" 
on the screen for play
Christy Strickler says, "This page is about the top ten video game news stories that I wanted to remember. I researched top stories for the gaming industry on the internet, but found there was a little disparity between many of the sites. I pulled some of the consistent stories from each site that also resonated for my family."
"I used video game themed papers with supporting embellishments instead of photos to make this page. I divided the stories into two categories and placed them onto separate journaling cards. One card highlights news that was pertinent for 2013. The other card highlights predictions and game announcements that we are looking forward to in 2014. "
on the page
Celeste Smith says, "These are the top ten books I read in 2013. I keep track of all of my reading on goodreads.com. I was able to sort my books by the date and then I scanned for the number of stars I gave them. The five-starred books all made this list as well as some four stars that were highly memorable. I grabbed images of the covers from publisher websites. I made a grid out of the photos–but since ten doesn't come out evenly for three rows, I filled a couple of the spaces with journaling cards."
[hr]
What struck you in 2013?
What do you want to remember and how will you do that? Tell us your plans in the comments below. We'd love to know what you've got planned.