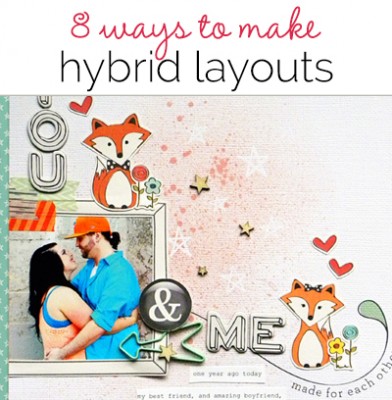 Hybrid scrapbooking is a way to use the newest digital scrapbooking products–which incorporate fashion and decor trends before paper products do–and still have the tactile experience of traditional scrapbooking. As digital die cuts and mobile fonts have become increasingly available and popular more people are giving hybrid scrapbooking a try.
Several paper scrapbookers on the Get It Scrapped Creative Team worked with One Little Bird's Crazy For You digital elements and papers on their paper pages. See eight ways they used digital product on paper scrapbook pages 
1. Layer digital word art and/or brushes directly over your photos before printing.
Kristy T says, "My husband jokingly complains that I don't scrapbook about him enough so when I saw the word brush Once in a Lifetime in this kit, I knew it would be the perfect title for a page about how much he means to me."
"To create the title for my page I chose a photograph with enough space for the word brush and re-sized it to be large enough to stand out as my title.  I also applied the color burn blend mode to it in Photoshop to increase the contrast between the brush and my photo's background.  When I added my text I made sure I lowered the opacity so that the word brush was more striking.
 
Aside from the background, the twine and the wood arrow, all the other elements and papers were printed from the kit.
 
Using the word brush was a quick and easy way to create my title, plus it served as inspiration for the page itself."  
2. Punch up your photos with digital frames
Marcia Fortunato says "I recently traveled to the University of Minnesota to watch two of my sons compete in a gymnastics meet. I had several pictures, so I used the digital frames to display them as a photo gallery."
"Using Photoshop Elements 12, I arranged several digital frames on two 8.5″ x 11″ canvases and filled the frames with photos and journaling. I also added digital flair and word strip embellishments to the canvases and then printed them to white cardstock. I mounted these prints to background paper and added alphas and embellishments to finish a hybrid page."
"Working digitally made it easier to get the photos to sizes that would fit onto the two-page spread. Printing the photos on textured cardstock gave them the look of canvas. Combining the digital with the paper allowed me to add the dimension I like on my layouts."
3. Print out as many digital journaling tags as you need.
Audrey Tan printed out a handful of simple journaling tags to make a border, using only the last one in the row to house her actual journaling. She also printed the fox and flower elements from the kit and layered them, along with the photo and journalers, with paper elements. 
4. Create your own stickers and/or die cuts from digital word art and illustrations.
 Amy Kingsford says, "I made this page for my sister to commemorate her one-year anniversary with her boyfriend.  The minute I saw the adorable foxes in the kit I knew I wanted to use them in a fun way, and I did–making my own stickers from them and some of the other digital elements. I used the 'Print and Cut' feature on my Silhouette Cameo, which uses registration marks to tell the machine exactly where to cut after the image has been printed."
"The mist on the page background is digital–printed to my textured cardstock. I applied the hard mix blending mode in Photoshop to get a resist look. I also printed the 'made for each other' brush onto that base."
"I layered photo, frame, flair and stickers (printed on and cut from adhesive-backed cardstock with the Silhouette Cameo).  I added a few other physical elements to get more dimension on the page."
"I've been hybrid scrapbooking for quite a few years and I really enjoy the versatility and control it offers me in my page designs." 
5. Make your own printed transparencies.
Christy Strickler says, "Though my cats are very affectionate towards one another, it's rare to capture a photo like this–with all three of them in the same spot."
 I printed all of the elements I used from the kit onto office transparencies.  I love creating my own transparencies from digital kits. They add a glossy, lightweight texture with a fresh, bright feel and allow me to experiment with layering items of varied weights. In some instances, I allowed the background to show through the elements like the journaling labels and in other cases I layered the element over white cardstock and backed it with chipboard to help it pop."
"I made a custom flower from the banner in the kit by printing multiple banners in two different sizes. I folded the banners in half to create individual petals, adhered them around the edge of a circle, and then layered each petal over the others.Between each layer, I machine stitched messy circles to keep the transparencies from popping up. I used a flair badge from the kit as the center. Since the badge prints flat, I added sequins and glass beads to the perimeter for more dimension."  
"Machine stitching adds texture, but some machines (like mine) don't always like the slick surface of the transparencies. I find it best to stitch on them before attaching them to the layout. In some cases, excess thread may then be visible. I consider this to be just a little added character. "
6. Add dimension to your favorite digital elements to help them pop.
 Michelle Houghton says, "I wanted to keep this layout clean and simple focusing on the wonderful photo of my husband and me.  I used both the patterned papers and several of the embellishment elements from the digital kit."
"I printed a full 8.5 x 11" sheet with blocks from four of the patterned papers. I trimmed them down and matted them with white to create a blocked background.  I printed smaller embellishments to matte photo paper, which I've found retains the beautiful colors of the original products. I added Glossy Accents to the small pink flowers and flair and layered 6 layers to the black flower to make it more dimensional.  
Working with digital kits puts a whole lot of coordinating product at your fingertips all at once.  I love being able to re-size and add dimension after printing."
Susanne Brauer says, "This is the first picture we have of our daughter in the hospital.  She was in her little hospital crib, so it was not a perfect photo due to her reflection on the plastic.  We were smitten with her from the very start."
"I printed and trimmed two of the text-prints from the digital kit to include, and I placed a digital frame around the photo before printing. I created raised elements from the die-cuts in the kit, placing identical die-cuts on top of each other with foam dots in between to give them dimension.  I clear embossed all of them so they would match the look of other raised parts of my page."
"The biggest benefit I found in hybrid scrapbooking is the ability to make multiples of any digital item – in the same or different sizes. Another benefit was that it gave me new ideas for using the paper goods I already owned. For example, the One Little Bird kit included a red and white thin diagonal stripe paper and rather than print it out I used a vertical stripe paper from my paper stash that was very similar.  And the small 'smitten' die-cut in the kit became the basis for my title.  The good design and product coordination in a digital kit can prove to be a great source of inspiration."
7. Transform digital word art and brushes into cut files that can be used with your die cutting machine.
Marie-Pierre Capistran says, "This is the story of when I met one of my scrapbooking idols: Heidi Swapp at CHA in Anaheim.
  To make the title for my page I transformed the word "lifetime" into a die cut file that I cut with my Silhouette. To do that I simply opened the png file with my Silhouette software and I traced the contour. Once it was cut out, I traced the contour of the word with a black pen to make the word stand out more."
"I also used the digital star brush as a stamp that I printed directly on my background. I used the patterned paper to make washi tape by printing a strip on vellum paper and tearing the ends."
"This was my first time working with a digital kit and I loved it!  I could print out the elements as many time as I wanted/needed and change the sizes and colors to meet my needs.  I could also choose the patterns I wanted for my die cut and for my home made washi tape." 
8. Print digital stamps and/or mist onto your background to add texture without the mess.
Kiki Kougioumtzi says, "This is a layout about my daughter and our dog relaxing on the couch after hours of playing."
"I created my page first in Photoshop Elements and then printed each element and the background and put it all together as a paper page. The foundation was built with layers of digital mist and stamped stars and then printed to a white cardstock."
"After I built the composition in Photoshop, I saved a jpeg copy for reference and then separated all the pieces for printing and fussy cutting in just the sizes needed. What I liked most about my hybrid process was the flexibility. I could re-size, recolor, and adjust transparency to everything used. The best part is that fixing errors is easy and no supplies get wasted. On the contrary, they can be reused over and over again and you can never run out of that beautiful paper."
 Now it's your turn…
 Pick a technique or two discussed above and give hybrid scrapbooking a try in one of your own pages.  Who knows, you might just fall in love with it! 
We would like to offer a big thank you to Peppermint Granberg of One Little Bird Designs, who generously donated her Crazy For You Papers and Elements to our team to work with.  We'd like to invite you to visit her blog and check out her digital shop over at the Lilypad, where you're sure to find more hybrid inspiration for your own pages!