As a long time scrapbooker, Amanda Robinson has always been interested in die cutting.  It was when she bought her Silhouette that die-cutting as she knew it was transformed. Now Amanda uses die cuts on almost every page, teaches people how to get the most our of their die cutting machines and creates custom die cut designs. 
When you come upon a new technique, product, story approach, design challenge or just SOMETHING that gets you excited, you often find that the the creating comes easier and faster. You start using this new "cool thing" again and again because it results in great looking pages, treasured stories recorded, or just more joy in the work. Find out what "cool thing" has

Amanda Robinson

excited to create currently and check out more ideas in our

Motivated to Scrapbook Series

.
Amanda's cool thing right now is using die cuts to add personalization and visual interest to her pages.  
Amanda says, "Since taking up scrapbooking as I hobby I've always dabbled in die cutting but when a friend bought a Silhouette Cameo I realized that it offered the flexibility I'd always found lacking with other machines. I quickly purchased my own machine and have been hooked ever since!"
On "Create Everyday" Amanda used both positive and negative die cuts to extend the scene and the overall feel of her Autumn photo onto her canvas.
Amanda says, "I recently took this photograph outside my studio with a different project idea in mind but, when I printed it, I was reminded of how lucky I am to spend my days doing what I love in such a beautiful location. With that in mind I created this layout and used my die cutting machine to create a background of leafy flourishes to echo the colorful autumn trees in the picture. I cut two large flourishes from my background cardstock and backed the negative space with a wood grain paper. I then used mists to color the positive shapes and arranged them over the top to create a fuller effect."
Die cutting is a great way to stretch your stash.
Amanda says, "Nine times out of ten I will design or purchase cutting files right in the middle of creating a layout. I will get going on the page and realize I need a bit of something else to finish it." I love that I can create any design I want to suit the project I'm working on. I'm never stuck hunting for the 'perfect' embellishment as I can make something for myself in minutes."
"One of my favorite die cutting techniques is to create a repeating background pattern and fill the negative areas with patterned papers. I did that on 'Woof,' layering a few small left-over die cuts and embellishments within some of the circles. I chose a circle design to represent the ball in the photo, as the layout is about how my dog would much rather cuddle than play."
Die Cuts offer inspiration in the form of their leftovers.
"After I finished making 'Woof' I had scraps of patterned paper left from die cutting the circles. They were lying on my desk along with the leaf photo, and I liked how they looked together. I selected my favorite scrap pieces and layered them behind the photo to create the centerpiece for this 'Autumn' layout. I didn't have much of a story to go with my leaf photograph, but I wanted to capture it on a layout as a reminder of the season and where I am spending most of my time this autumn.  
Amanda has provided a coupon code for Get It Scrapped readers to download the circle background cutting files used in the pages above from her store for free. They come as DXF and SVG files–so they are compatible with most cutting machines. Click here and purchase the file with code: gis1113 to get it for free.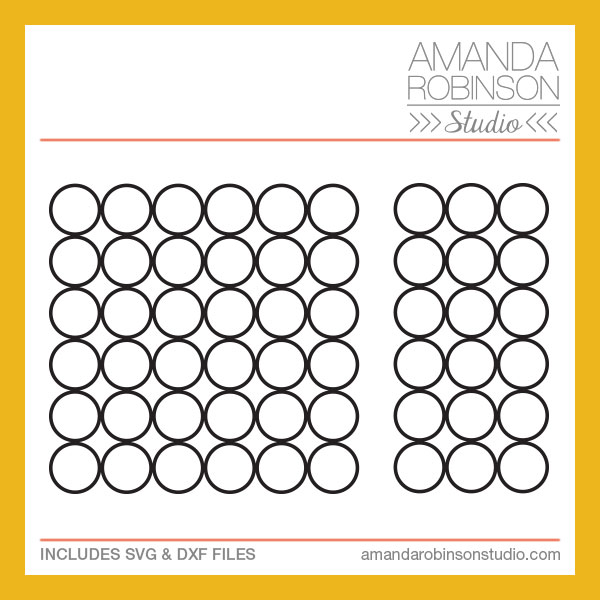 Amanda Robinson
Blog | Challenge Blog | Facebook | Pinterest
Amanda lives in Devon in the UK with her  husband and 9 year old son, Lewis.   She has an eclectic scrapbooking style–in which one day she will find herself creating a very minimal, graphic project and the next a textured project with layers of pretty papers and embellishments. One thing that is almost always present in her layouts  is ample white space and, lately, she seems to have been bitten by the electronic die-cutting bug!