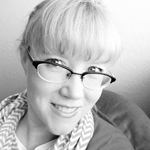 When you're looking for a starting point and ideas for a scrapbook page, you want resources for getting the job done, and Pinterest probably has what you need–if you could only find it.
Scrapbooker Emily Pitts uses Pinterest regularly to jump start her pages. Check out her 50+ boards at http://www.pinterest.com/mlepitts/ and read on to find out who she follows on Pinterest.
[hr]
Sonja Susnick's Cards Board
This board is filled with invitations, announcements, and identity branding that offer loads of ideas and embellishment options.
Sonja: pinterest
[hr]
 I found Allison when I first found Pinterest and she pins a wide variety of inspiration, from grungy to clean, she never disappoints.  
Allison: pinterest
[hr]
This board is a great way to gain inspiration for  layering. There are days when I wish I could pile it on, it's something I'm working on.
[hr]
Kelli and I have the same taste; we are always pinning each other's pins, so I know I'll find something inspiring here.
[hr]
Even though this board is filled with pins that aren't really my style, I wish this was my style, which means it probably influences me more than I think!
[hr]
Using Inspiration
Emily admits that her designs are super inspired by visual stimuli. "I will find an image I like and though the resulting layout never looks like the original, you can usually see the influence. 'What did you ever do before Pinterest?' my mom asked. I really don't know." 
Emily used an image from Tiny Prints she found via Pinterest to inspire her own page. Emily says, "I loved that the bold arrows in the design drew your eye to a specific place in the design. I had this great BOLD chevron paper that I knew I wouldn't use as a solid, so decided to try it cut up, using the points of the chevron to direct the viewer to our hands, the whole purpose behind the layout."
Emily Pitts lives a mile high in beautiful Denver, Colorado, enjoying the 300 days of sunshine for which the Rocky Mountains are known. She is married to her perfect match, Kelly, who is very patient with her need to create and take photos. They have two near perfect children, Annie (19, and now in her freshman year of college in Utah) and Ethan (15).
Typography, color, texture, and packaging influence her style, which she describes as graphic whimsy. She likes to hand-cut things and use stitching in her designs. Emily happily works for Cocoa Daisy as a designer and managing their online marketing and social media needs. She is on the design team for Scrapbook and Cards Today, Maya Road, and Jillibean Soup. She often works with Masterful Scrapbook Designs as well.