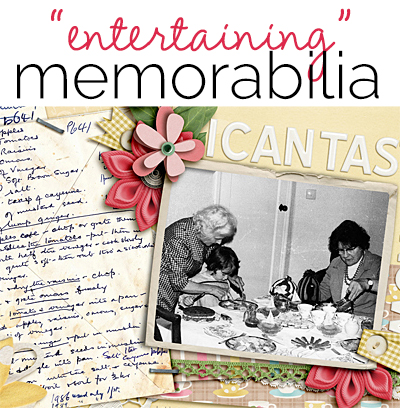 Whether the next get together you host is a big party or a small family celebration, keep an eye out for memorabilia to scrapbook with the photos. Shopping lists, menus, invitations, and guest lists are a few of the pieces you might include–just as the Get It Scrapped Creative Team has done here.
Kristy T says, "This page documents my daughter's 4th birthday party, with a particular focus on the party food and the invitation.  Her favourite colors are pink and yellow so she had a 'pink and yellow' party."
"I included the party invitation here. Since it was a rectangular shape, I created a loose grid with a couple of photographs and my title.  The colours on the invitation were bright pink and yellow so the page itself is quite bright with a little grey to balance out the bright colors.  I desaturated some of the colors in my food photograph before printing to highlight the pink and thus the food on the plates."
Ronnie Crowley says, "This page is about how the written recipe for my grandma's green tomato chutney makes my mouth water to think about it. My sister has the original recipe written on the back of an envelope by my grandmother and I had her scan it and some other recipes as I plan to get it printed on fabric and made into tea towels for us all. I haven't got round to that but I have the scanned image so I decide to scrap it with a picture from afternoon tea with my grandmother. Now I've done this I really need to get the tea towels made. You can read how to do it here."
Lise Mariann Alsli says, "This page is about my 33rd birthday this summer. We were visiting my mother so I got to meet so many of my loved ones and my mother made the best cake for me like she did when I was a kid. Loved it.'
'I wrote this note in my note book the morning of my birthday planning what I had to remember doing that morning and the menu of the evening. I scribbled and drew silly pictures on the right part of the note, but when I made the page I made sure that the picture were covering the ugly part of the note. I have never thought about the possibility to use parts of my silly note book in my layouts, but this shows that it is possible using them too. 
Brenda Becknell says, "If we're lucky, my husband and I catch enough fish during our Spring fishing trips to host a couple of fish fries for family and friends during the Summer.  This photo is one of our smaller ones, with just my husband's family. Some of the menu items for these fish fries are staples (fried potatoes, cornbread and my jalapeno coleslaw are must-haves!) but I change around the other side dishes each time.  I wrote the menu for this particular dinner on a journaling card and included it on the page.  To make the pocket for the journaling card, I only adhered the bottom strip of patterned paper on the left side at the top and used a very narrow strip of adhesive down the right side and right bottom edge.  That way, I could slip the journaling card into the opening."
Terry Billman says, "This layout documents the 80th birthday party I hosted for my stepdad. I included photos taken during the party (on the right side) and the invitation I created on the left side of the layout. The poem in the center of the layout was printed on a bookmark I made for each of guests. Since my stepdad is very patriotic, I used a red, white, and blue patriotic scheme for the invitation and the decorations. I incorporated the same colors in this layout."
Christy Strickler says, "We had a small barbecue for our family of three on Interdependence Day. During holidays, I am often reminded of cooking with my grandmother when I was small. She had a recipe file box with stained, beat up recipes cards. Some were typed, very poorly. I don't have any of her cards, so I replicated the look of one here. Instead of a recipe, I included our simple menu. My meals are much less elaborate than the ones my grandmother made."
Sian Fair says, "When my brother was going to live in the States I invited some friends round for a goodbye meal and after they had accepted we discovered our meal would be on the night of the Olympic Opening Ceremony, so we watched it together. I decided to use my shopping list for the meal – or at least a reconstruction of it! I had some photos of the ceremony, but they were so dark I decided to go without and made a page with a sports competition look instead."