If you don't like something, change it. If you can't change it, change your attitude. ~Maya Angelou 
You must be the change you wish to see in the world. ~Mahatma Gandhi 
Click here to download zipped file with png and pdf files
If you change the way you look at things, the things you look at change. ~Wayne Dyer 
Life is one big transition. ~Willie Stargell 
Never believe that a few caring people can't change the world. For, indeed, that's all who ever have. ~Margaret Mead
To improve is to change; to be perfect is to change often. ~Winston Churchill 
If we don't change, we don't grow. If we don't grow, we aren't really living. ~Gail Sheehy 
Things do not change; we change. ~Henry David Thoreau
Everyone thinks of changing the world, but no one thinks of changing himself. ~Leo Tolstoy 
The only way to make sense out of change is to plunge into it, move with it, and join the dance. ~Alan Watts
Only the wisest and stupidest of men never change. ~Confucius
Change in all things is sweet~ Aristotle
And in honor of Digital Scrapbooking Day…
Here's a special bonus for you.  To aid you in telling your stories about personal change in your scrapbook pages: a collection of  3 x 4″ journaling cards that come in both digital and printable formats and will work for your pocket pages, as well as your regular scrapbook layouts. Enjoy!
 Click here to download zipped file with png and pdf files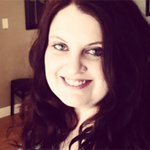 Amy Kingsford
Amy writes for and administers the Get It Scrapped blog. She's also our Creative Team Coordinator and a teacher at Masterful Scrapbook Design.
Amy Kingsford is a happy wife and blessed mother from Northern Utah. In addition to her work here, she also shares ideas and inspiration on creative approaches to modern scrapbooking and papercrafting at her blog My Letter-Sized Life.