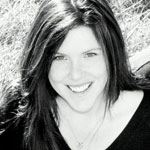 When you're looking for a starting point and ideas for a scrapbook page, you want resources for getting the job done, and Pinterest probably has what you need–if you could only find it.
Scrapbooker and digital designer Krista Sahlin uses Pinterest on a regular basis to find inspiration for her pages. Check out her 50+ boards at http://www.pinterest.com/kristasahlin/ and read on to find out who she follows on Pinterest.
[hr]
This board is filled with loads of different brushes and options to use in Photoshop.  This can help to inspire so much artistic style.
[hr]
 Sometimes it's nice to have help with journaling prompts… to focus on an untold story.  This is a good resource for journaling inspiration.  
[hr]
This board is a great way to gain inspiration for capturing those every day type of moments that happen over the holiday season.
[hr]
Digital freebies are always fun… but finding some good quality and unique ones are even better!
[hr]
This board is filled with oodles of black and white inspiration, which is great for creating something with a graphic feel.
2 Peas in a Bucket: website | pinterest
[hr]
Using Inspiration
Below is an example of how Krista used Pinterest to inspire her own page. Krista says, "I used 2 Peas' Black and White board as inspiration when creating my layout 'Moments like this… make me smile.'  I was inspired by the graphic feel, clean lines and white space used in many of the pins on this board, I also loved the way the graphic fonts looked against black/white.  I love how great each of the inspiration pieces looked all on it's own.  So I decided to make a very sparse layout, with minimal items on the page, but focusing on a black and white photo; as well as black font."
Krista is a wife of 11 years, married to her best friend & IT guy, Aaron. She is a mother to two wonderful and rambunctious kiddos, Sophia (9) and Gabe (7). Krista has scrapbooked since high school, and once she found digital, she never looked back. Krista is now her family's avid memory keeper (or scrap addict), and has been blessed by being able to combine her love of digital scrapping with a career of designing scrapbooking products.
Her digital scrapbook designs can be found at The Lilypad under Sahlin Studio. You can find lots of inspiration, digital scrapbooking freebies and tutorials on Krista's blog: Sahlin Studio.