Want to write your memoir piece by piece? Here's another installment in the personal storytelling I'm doing as a part of the Story Coach classes. Story Coach #6 | Objects of My Youth guides you through recalling items from your childhood, connecting them to a story that matters to you and writing a personal essay. 
---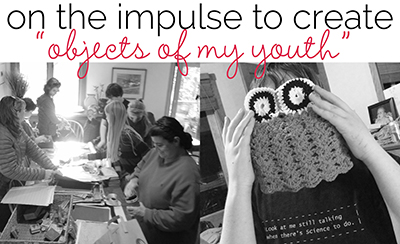 In my dream, the school bus is due, and I'm still deciding what to wear. I worry I'll be pulling a shirt over my head when the bus stops at the end of our packed-dirt driveway. And, yet, I take another top  from the dream closet. This dream closet is bigger than in real life. There's a small passageway at the back left corner that goes into a second closet. Ah, finally enough room for my things.
But what are my things? I remember a decoupaged cigar box full of gum wrappers—Wrigley's Spearmint, Juicy Fruit, and Big Red. I folded the wrappers into narrow strips and then wove them into an ever-growing chain.
A shirt box housed loose leaf paper onto which I copied poems. Whose poems, though? Kahlil Gibran, for sure. And Emily Dickinson. I recall seeing a Whimsy Dip box at my parents' home in recent years, and that reminds me of a bead loom, the glass bottle cutter, and embroidery projects.
Whimsy Dip was a problematic craft. A wire loop had to be smoothly curved and completely closed. The dipping had to be done just right for a smooth flower petal or butterfly wing of film to be created. And then it had to dry. Crocheting was easier, and yielded more useful items–like a poncho for my Chrissy doll and a hat for her companion Velvet.
Yesterday, I walked down the road to meet my son's school bus. I wanted to find and invite neighborhood kids and moms to take craft supplies I was getting rid of.
"You'll need them, yourself," Sara said. I insisted, quite honestly, that I would still have plenty.
Caroline and Hannah said they wanted to come by anyway—to see Isaac's crochet work.
"Really?" I asked Isaac. "You told them about it?"
"He showed us the patterns he bought on his phone. The Yoda is so cute."
I crocheted a complete doll wardrobe the two weeks I was out of school with mumps. My brother Mark was sicker than me, each of us on our own sofas in the living room. Someone would have brought us schoolwork, but I know that crafting and watching The Beverly Hillbillies and The Lucy Show had been my focus.
Ah, mumps, a childhood disease that vaccinations will spare my own children who have never been out of school for two weeks solid. Maybe I've romanticized that glorious time of quarantine, recovery, and crafting, forgetting my worry about getting behind at school. But I don't remember worry. I remember the comfort of the sofa, the yarn, and the television.
For three years, my son Isaac has struggled with a post-viral syndrome, catching colds and viruses easily, feeling achy even when he doesn't have any defined illness. More days than not he angles to stay home.
"We aren't doing anything."
He says that almost every time. They are doing things, though, and he can't check out of high school for two weeks and still have good choices for college. And so we "pulse" the rest and the work when he's feeling sick. He snuggles into his bed-sized beanbag chair with a paper craft or crochet, but his backpack and laptop are nearby. He emails his teachers when he's absent, and the PowerSchool website is always there to tell him what he's done or missed.
Back from the bus stop with three moms and five kids, I give everyone a paper bag and tell them to take what they like.
"What's this?" seven-year-old Jeffrey asks, and I explain how a QuikCutz die cutter works. As soon as I say "magnet" he's reaching, and by the time I say "punch" and show him the cut-out tag, he says he'll take it. I explain cling stamps to the girls and tell Elaine how rub-ons work.
That night, I discover Isaac asleep early—still in his clothes. I am sneezing and stuffy myself, but tell Neil it's probably from the dust I stirred up cleaning my office.
"I hope he's not sick again," Neil says.
"It has to be the dust," I repeat. I decide against waking Isaac to brush his teeth and put on pajamas, and I pull a blanket from the foot of his bed. It's tangled in yarn, and underneath are his hook and the beginnings of a project: big owl eyes and a blue scalloped body. I turn on his smart phone and see the instructions. He's making an owl tea cozy.
Huh. An owl tea cozy.
Whimsy Dip butterflies. Gum-wrapper chains.
Pretty? Hopefully. Useful? Perhaps. It doesn't matter, though, because some of us just have to mount the magnetic die on the QuicKutz, slide in a piece of paper, and press hard.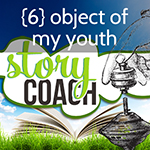 You can write a personal essay like this with Story Coach class #6 "Objects of My Youth." Use the prompts to find your material. Use a 7-step guide (that presents your prompted writing) to complete the piece.
Save $10 on the Story Coach bundle with coupon codestoriesrock. Click here because writing your stories is easier than you think.