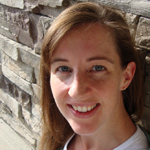 When you're looking for a starting point and ideas for a scrapbook page, you want resources for getting the job done, and Pinterest probably has what you need–if you could only find it.
Scrapbooker and mixed media instructor Michelle Houghton uses Pinterest for both personal and instructional purposes . Check out her 20+ boards at http://www.pinterest.com/michoughton/ and read on to find out who she follows on Pinterest.
[hr]
 Renee finds a lot of lovely Copic work to share.  For me, as a Copic instructor, it is always great to see what types of images people are coloring and new trends in color combinations that others might like to learn about and that would be fun to try myself.  
Renee: pinterest
[hr]
This board offers a fun collection of crafting, scrapping and mixed media inspirations.  She watches several artist that I admire and has found a lot of unique looks and cool ideas to try.
[hr]
This board of doodling inspiration is one of my favorites.  This is another area that I teach so I am ALWAYS looking for new doodle patterns but even more important new ways to create with doodles in finished art work.  Kim seems to find some of the best examples to admire and learn from.
Kim: pinterest 
[hr]
I just discovered Vivian recently through Design Memory Craft and I am in artist love!  Many of her pins are from her own art work and several have video tutorials.  This particular board is a font of information.  I do have to be careful when visiting though because it is hard to stop watching all the wonderful techniques.
[hr]
As a retired art teacher turned papercrafting teacher my love for all mediums is still alive and kicking.  Faber Castell's Design Memory Craft boards and blog have become a favorite haunt of mine.  They have several new products that I am exploring in depth and their board of guest designers has been a wealth of inspiration and information.
Design Memory Craft: website | pinterest
[hr]
Using Inspiration
Here's what Michelle had to say about using Pinterest as a source of inspiration, "I use Pinterest boards for 3 different reasons. 
The first reason is simply collecting things that catch my eye and appeal to me on a personal level.  I have boards that collect cooking recipes and kids craft ideas that are truly just for me for my home and personal family life. 
Secondly I collect inspiration on Pinterest from a teacher point of view.  It is an unbeatable tool for collecting ideas and inspiration for lessons.  I look for new doodle patterns and art, mixed media techniques others might like to learn step by step and Copic techniques that are new and inventive. 
The third reason I use and love Pinterest is the artist side of me.  I LOVE learning new techniques, playing with new mediums and perfecting the art that I love.  Pinterest is a portal into other's art and workspaces.  I get to learn from a whole host of artists through their completed work and on occasion video or instructions."
And below is an example of how Michelle used Pinterest to inspire her own page. Michelle says, "A pin of this image by Nikki Hall inspired me to try a new technique and add my own tricks on my layout.  I was inspired by the mediums used on this card and the watercolor look they achieved without watercolor.  I used some of the techniques that I found following the pin to it's originating page and then added my own touches to create my unique layout."    
Michelle Houghton is a wife, mother and artist living in Iowa. Even before she began scrapbooking, she was a lifelong artist, majoring in Fine Arts at the University of Oregon and then teaching high school art for 7 years. Michelle has been scrapbooking for more than 15 years and she enjoys adding her own art, doodles and handmade elements to her pages for a one-of-a-kind look.
Michelle teaches doodling, Copics, handlettering and more in her classes at Creative Passion and at workshops throughout the midwest. She also writes tutorials for Get It Scrapped!