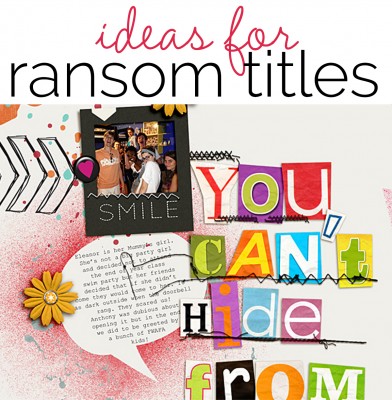 Mix up your titlework with these scrapbooking ideas for ransom titles. Ransom titles are inspired by the look of a stereotypical ransom note in which the message is made with letters or even words cut from a magazine or newspaper so that the author's handwriting cannot be identified.
On scrapbook layouts, they can represent fun, random occurrences and even scavenger hunts. See how the Get It Scrapped Creative Team has put them to work on paper and digital scrapbook layouts. 
Marcia Fortunato says, "Inspired by my son to look for the tiny things in nature, this layout shows photos I took on a recent hike."
"I made my ransom title using letters from a variety of older sets of letter stickers. The ransom title works well with the page because of the random nature of my photos. The title is "On a Scavenger Hunt," and I went on a bit of a scavenger hunt through my stash for letters of the right sizes and colors to compliment the photos. This was a great way to use letters from sets that were almost used up or that I'd had for a long time but never used."
Anja de Dobbelaere says, "I took this picture of my nephew Arne on a terrace one summer evening during our trip to France. He and my daughter were playing 'cool' and pulling funny faces."
"The ransom titlework goes with the page theme and the word it renders: 'randomness.' I used a 'ransom' font  For the One Hundreth Time because it's playfulness was perfect for the photo. To emphasize the ransom-title effect, I  rendered the letters in different colors."
Michelle Houghton says, "My girls can be two 'Silly Billies,' and this day at the park was no exception."
"I created my ransom title by pulling out all of my letter stickers out and looking for variety and contrast that echoed the raucous mood of the photo.  The title itself reminds me of them and the silliness of the situation. They were laughing so hard it was tough to get back out of the rocker they had squeezed into. The composition was inspired by the Criss Cross Scrapbook Coach class. 
Tip: Because I was going to use a long title and with so many different fonts I found a large piece of plastic and gently laid my letters on top of it to see how they would look together.  By using the plastic first I could still lift off letters and select others if I needed to before adhering them fully to my page.
Deborah Wagner says, "For us, summer means a pool full of family and friends."
"I made the fun ransom title to match my photo and its fun crop using alphas from several kits. I changed the color of some letters and clipped brightly patterned papers to others. The R is turned upside down, to echo the extracted foot in the photo that extends out of the frame." 
Sue Althouse says, "This page is about my husband putting up a ceiling in our basement."
"I made the ransom title with an assortment of American Crafts Thickers alphas mounted on card stock. I cut the card stock pieces all to the same height, but varied the width to match the letters. I kept my hand-cutting uneven. The "messy" look of a ransom title goes well with a messy remodeling project. I even managed to word my title like a mystery or detective story!"
Ronnie Crowley says, "This page is about the night my daughter's friends dropped in without warning. My daughter had avoided going to a party, but since the party was in walking distance of our home, they came over en masse. If they had sent a ransom note prior to coming over I'm sure it would of read something like "You can't hide from us!"
"I was lucky I had the perfect ransom alpha in my digi catalog. When I looked through my supplies, I found more than one but given the nature of the page I wanted a bright and colorful alpha to match the mood of these teenagers who are all about fun. The whole artsy look to works because my daughter attends a fine arts school, and many of her friends are talented artists in their own right. If they had made such a note they would have gone to town in its creation.
Tip: Don't be afraid to make your title the focal point. The photo here was a quick iphone snap. Allowing the title to take center stage means the picture is supporting the story and its lower quality isn't a problem."
Rosann Santos-Elliott says, "I usually take my son to the beach alone, but I have recently become friendly with a neighbor whose daughter is my son's age. We decided to hit the beach together and played hooky on a Friday."
"I used colorful and playfully-styled alphas for my 'fun' title. I embellished with flip flop.
Tip: Don't overthink it when you're choosing alphas for a ransom title. I grabbed the first 5 sheets of alpha stickers that I spotted and used them.
Susanne Brauer says, "This page is about my daughter's first day of school this year. It's her senior year, and I'm focused on how quickly it has come and how quickly it will go by.  She'll be leaving for college this time next year."
For a happy, fun, teenage vibe and chose colorful papers and leftover alphas from my many half-used American Crafts Thickers sets. To unify the various letters, I inked them all black, and mounted them (a bit askew) on randomly cut pieces of cardstock. I inked the cardstock edges with blue/grey ink, again to unify, and, also, to ground them to the canvas. The  hash tag was made by hand cutting strips of cardstock and covering them with washi tape. 
Tip: Remember that you can change the color of any paper item with ink, paint, or mist.  That said, I would not go so far as to recommend that you buy only white letter stickers; it is much too much fun to collect all the different colorful varieties.
Andrea says, "I rendered the word 'Big' in a ransom style to give it emphasis. Each letter is rendered with a different font and size. The composition was inspired by the Criss Cross Scrapbook Coach class. 
Tip: When making a ransom titles with a font in Photoshop, place each letter on its own layer, so that you can resize, recolor, and move each one individually.
Terry Billman says, "My husband loves golf. He lives for golf. There is no other place he would rather be than on the golf course."
"I looked through my alpha stash and challenged myself to use a mixture of items that I have never or infrequently used. The beads on the string accentuate the cart path winding through the layout. I like how the H in "His"dips down to the cart path/road and the word ends with a manly looking alpha. The hearts were used in place of the actual word and clustered above "golf". I kept the hearts and the word golf close together and fastened to represent how Craig holds golfing close to his heart." 
Katie Scott says, "We live 5 minutes from St. Pete Beach but we rarely get over there, so this page is a little reminder to get to the beach more often."
"I had intended to use magazine words to create the title, but I couldn't figure out a good way to incorporate the long title quote without covering up too much of the photos. Then I had the idea to use the negative spaces from used up pages of letter stickers. I like the idea of being thrifty with my supplies, so it felt good to use something I would otherwise throw away."
Debbie Hodge says, "My mom enjoys working on her gardens and yard in the summer, and it's always beautiful there, with pretty vignettes and lots and lots of freshly-mown, lush, green lawn. The area she's mowing in these photos was a hayfield when I was growing up, but now it's an extension of her yard."
"When I came across the 'play' wordart in the Paisley Press Make Believe kit, I loved the ransom styling and I knew my title: Work is Play. I contrasted the mixed-up 'play' with an oversized stamped alpha for 'work.'"