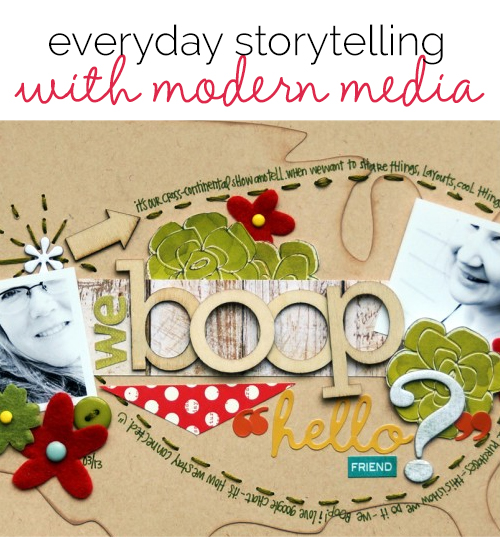 Everyday storytelling is at its best when you include indicators of current times. One aspect of current times is technology. It affects your tools, your play, your work, and your relationships.
On the Paperclipping Roundtable Podcast this week Noell Hyman asked the panel to talk about scrapbooking "modern media" both recording how we use technology today and how we can make use of images and text that come from today's technologies. Be sure to listen. And for more scrapbook page ideas, panelist Tami Morrison posted several on her blog.
Below are some of the pages I mentioned that I'd made during the podcast–and I put out a "drive-by" call to our Creative Team and they supplied their own "modern media" projects. In fact you've probably got your own pages driven by current technologies — link them up in the comments and/or post them in our gallery. We promise to give you gallery love.
Friendships are facilitated by modern technology.
Michelle Houghton says, "This page is all about my dear friend Tami and how we connected. My friendship with Tami developed online.  After moving many times as an adult, I am finding that some of my closest friends are the ones that I have met and gotten to know online.  They are always there no matter where either one of us is physically."
"I used a whole mish-mash of supplies starting with spray mists–because they are a signature touch of my friend Tami's pages. I added tape, twine and tags and finished with doodling which is all me.  The photos I used are our current avatars on-line so this is how we "see" each other most of the time!"
Emily Pitts says, "Paula and I talk to each other many times in a week, but not over the phone. We have our Google Chat windows open while we're working and when we have something to share, or just want to say hi, we'll send a little message through Chat. It sounds like a BOOP! So we started calling it that. We boop each other regularly and I wanted to record that part of my day to day in this layout." 
Photos now come from webcams and phones (and selfies are a byproduct).
Dina Wakley says, "This layout is about the passage time (wow, I have THREE layouts about that–guess what has been on my mind?). The photos are all webcam photos that I took of me and my son. They show the passage of time as he has gotten older over the last few years. I wanted the page to show time passing and how it just seems to get faster and the years seem to accumulate so quickly!"
Debbie Hodge says, "When I saw my three nieces, dressed up for a wedding shower, snuggled together on my mom's porch bench I went to get my camera thinking they made a pretty picture. Before I could get my shot, Hannah was taking a portrait herself with her phone camera. I wanted to get these pretty photos showing them doing what teens do onto the page — to capture the times and a shot of them in action."
Phone texts and emails are how we communicate — with new speed and frequency.
Debbie Hodge says, "My oldest son reprimands me if I use abbreviations in texting — or if I misspell things or leave out words. I thought he was just being difficult to be difficult until I got some recent texts from him that surprised me in their particularity and formality of language. I wanted to record his proper and official texting "voice" — which actually isn't all that far from his speaking voice."
Debbie Hodge says, "When my son went to Game Design Camp the first year, I thought for sure we'd hear from him — he had access to his phone for texting and his computer for emailing or skyping for hours each day. He was busy, though. Here's the one email we received from him. I love how it covers so much territory from food to weather to activity. While I could have just copied the text of the message, I took a screen capture of the email on my screen to keep the look of how I first read it."
Official emails are a great record of events and achievements.
Heather Awsumb used the text from an email announcing her promotion as the journaling for this page. Not only does it celebrate her promotion it's a wonderful record of all she's achieved before since those details are included in the announcement.
Social media updates create portraits of loved ones — and companies.
Sue Althouse says, "This page is about how much I enjoy my son's Twitter posts. He is grown up, married and living in another state, but I can still catch glimpses of his sense of humor, opinions and attitudes through social media. I printed a small collection of his tweets that best reveals his personality to create this page."
Debbie Hodge says, "Over the last 10 years we've had several instances of multi-day power outages. This page is from a series of pages during an outage. I grabbed the twitter feed from out power company, PSNH, to add information to the page."
Social media updates and conversations make great page topics.
Ronnie Crowley saved her daughter's facebook update wishing for inclement weather on a day when her wish came true and paired it with a photo of her daughter in bed smiling.
The title of Carrie Arick's page came from a comment left on her facebook page when she posted this picture. Carrie says, "I'd taken this silly photo and was hesitant to share it on Facebook because I can see my hair turning gray for the first time, but I did it anyway. The title is a comment made by one of my childhood friends (and I was reminded the only who notices my graying hair is me)."  
"I wanted to create a page that was fun, but also a little unstable. The feeling of getting of my first gray hairs threw me and then having a kitten on your head is a little harrowing. I purposely let the top of my page feel just a little heavy. The lace on the bottom gives the the photo a soft place to land, should it fall. The vintage, worn elements mixed with the modern fonts reinforce the theme of young and old."
Ronnie Crowley used a funny facebook update from her daughter as title, focal point, and driver of this page.
The ability to stream TV shows and movies has changed home entertainment.
Stefanie Semple says, "I googled high resolution images from the internet to document my series favourites. These change so often and sometimes without warning a show is cancelled and easily slips into the forgotten area of my brain. This way we can reminisce and remember what we loved watching way back when."
Debbie says, "For the first class in the Story Coach series, I tackled the topic of how I 'play' and how that play has changed. One of my favorite ways to play is to watch tv series — in binge marathons. 8 years of Monk in a month, the single season of Firefly in a weekend with my oldest son, and the 4 years of Modern Family watched over and over with my youngest son. I checked out my Netflix and Amazon Prime watchlists and then grabbed image clips from the web promoting the shows I watched to make this page."
Shopping now longer requires leaving home.
Debbie Hodge says, "I've never liked shopping, and Amazon has made it so easy for me. I made this page by going through several months of my past orders and grabbing the images and product descriptions. I can see the books we were reading, specialty groceries, used textbooks, a gift for my mom, supplies for my business and our home, and even the beach chairs we got that summer.  I use SnagIt to grab captures of screen bits and I quilted them together in photoshop, topping them with digital stitches."
Internet services have become a big part of business and family budgets.
Debbie Hodge says, "Most of my business costs are for web services. I made this page 2 years ago, listing web services I purchase and the prices paid. I need to update it because things have changed significantly in this time."
Games are played on screens now–and you don't have to play alone!
Debbie Hodge says, "When my son told me that we could play one of our favorite board games together with an app on our phones, I was reluctant. And then we had time to kill in a coffee shop and started playing Ticket to Ride. It was MORE fun because this is a game with so many pieces and ways to keep points. The app made it all faster. And when my son went to bed, I just kept on playing against the appbots. I grabbed a screen capture of the game and put it at the center of a crossing of tracks made with ticket strips."
Christy Strickler says, "My son loves to chat with his friends while he plays video games. It's not unusual for him to be in an on-line chat, using his tablet for skype and even calling a friend on the phone all at the same time. I used a vintage telephone and used vintage papers and receipts to create the layout. All of them represent older forms of communication. The bingo card represents his love of gaming. I converted the photo to black and white so that it would better fit the vintage vibe of the layout."
 You've probably got your own pages driven by current technologies — link them up in the comments below and/or add them to our gallery. We'd love to see them and leave you a comment.