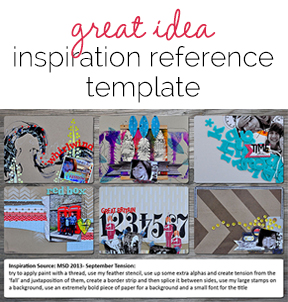 Tami Taylor collects scrapbooking inspiration on a 3 by 2 reference card to be sure she tries out new ideas on her own projects. Use her  free Photoshop template to do this yourself.
by Tami Taylor
This month at Masterful Scrapbook Design we are discussing tension and how it affects our scrapbook layouts.
The Tension Ebook is 299 pages and it's supported by 10 live webinar events. What this means, for me, is that it's not always easy to catalog the inspiration from these seminars.
This year, I started making notes during the interview webinars, then realized I'm a visual person and needed quick reference sheets. So I created a template in Photoshop and easily plugged in whole layouts or detail areas of layouts that i wanted to remember.
I call them "takeaways." The template lets me include six images and a few notes on the inspiration I most want to "take away" from the webinar.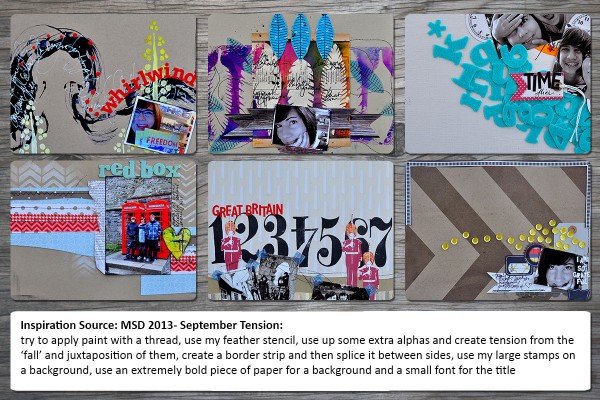 I  limit the ideas to just six per designer interview, so I'm not overwhelmed.  While my inspiration card is limited in number, I do not limit the ideas to just the seminar topic.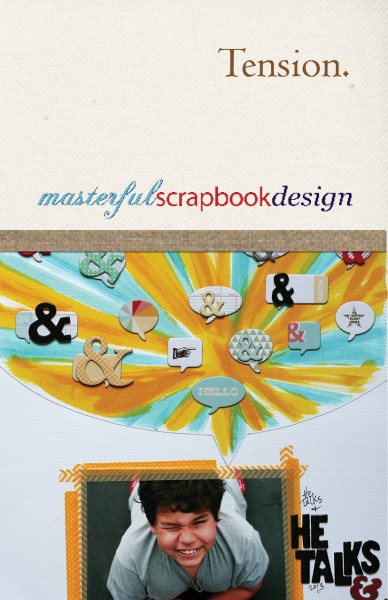 Let's face it. The layouts at Masterful Scrapbook Design are amazing and full of inspiration for anything from photo treatment, to titles, technique, and product use. So my "takeaways" are any tidbits, techniques, or ideas I loved about the designer's layouts shown in the webinar. They are the things I wanted to try on my own layouts as soon as possible.  
I'm not alone in this inspiration note taking. Several other members have been posting in the forums what they took away from the webinar to try on their own pages. Today's forum post shares ideas inspired by Dina Wakley like: butting titles up to photos, embracing the philosophy "done is better than perfect," and read the book Dina mentions in the interview (Rebecca Sower's Life's Little Moments).
If you are registered for the forum you can click here to view what others are saying about Dina webinar. Or you can register for Masterful Scrapbook Design and gain access to all of the materials from the seminar. If you missed any webinars, no worries – recordings will post so you can watch the interview and see what you take away from Dina Wakley. 
If you would like to use the template I created, you may download the .zip version by clicking here.
[ttaylor]