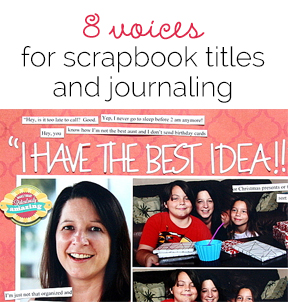 Write scrapbook journaling or titles that capture a subject's voice for rich and appealing storytelling.
"Let's see what she says about that!" or "What did he say about it?"
How often do you hear or express this exact sentiment? There's an anticipation and satisfaction in hearing a voice — not so much for how it sounds but for the opinions and attitude it conveys.
See the scrapbooking ideas for getting voice onto your layouts from our Creative Team.
1. the diarist's voice
Ronnie Crowley says, "This page is about the books my mother remembers as favorites from her childhood. The journaling on this page is written by my mother. About 18 months before she was diagnosed with cancer I gave her a book called 'Grandma tell me your memories' which was a year's worth of prompts to complete. She wasn't excited about it, and to some of the prompts she responded with statements like 'If I did I really have no memory of it….' She did though complete the book, unlike my Dad who refused to complete the Grandpa version. Now this book is a treasure as I'm able to match her words with pictures that I have and bring her voice alive in my scrapbooking even though she passed away several years ago."
2. the young child's voice
Kristy T says, "I tend to be the organizer in my family, and one day my daughter commented that I was a bit like the queen and my husband was like my servant, which we all thought was funny."
"I wanted to remember this just as if she were saying it to me again, so I let her words become the long title and added extra journaling of her further explanation of what she meant.  I used a mix of font sizes, colors, and type to add emphasis to certain words and keep it interesting.  The stamped image was perfect to support the story. Since there is no photo of me on the page it keeps the emphasis on my daughter's words."
Christy Strickler says, "My son asked if we would see any sharks while we were at the beach. I used his question as the title of this page. I don't remember the conversation word for word.I wish I had written it down. These photos are almost 6 years old!"
"I wrote my journaling in the form of a conversation between my husband and my son, paraphrasing what I remember. One of the shots of my son in the water looked as though he were searching for something. I used it along with a photo of my family swimming to support the conversation even though it happened prior to our trip to the Gulf. The design of this layout is based upon the Scrapbook Coach Criss Cross class."
3. the hubby's voice
Stefanie Semple says, "This layout celebrates our trip to Akureyri through my husband's eyes."
"I gathered photos from our trip and then copied and pasted pertinent facts about the destination from Wikipedia. I used Teletype font, which is a typewriter font, for this factual journaling. Below the photos I chose a hand writing font to render my hubby's thoughts and feelings about our day trip around the town there."
4. the social voice
Katie Scott says, "My kids haven't seen my sister in six years and she rarely sends birthday or Christmas presents. This page is all about a phone call she made to me before a 'Christmas in July' visit to us. She wanted to ensure my kids would think she was the best aunt ever."  
I didn't write down the conversation as it happened, but I remember it well enough to approximate what my sister said.  I typed up the journaling, printed it, then cut strips of the story and placed them a bit all over the page – because our conversations are often jumbled and we jump around from topic to topic and back again. I wanted the journaling to look all over the place on the page  because our phone conversations are usually all over the place.  I used Christmas colors red and green since my sister's idea was about having a Christmas in July; and I used the phone embellishment since this was about a phone conversation. 
Sue Althouse says, "This page is about how much I enjoy my son's Twitter posts. He is grown up, married and living in another state, but I can still catch glimpses of his sense of humor, opinions and attitudes through social media. I printed a small collection of his tweets that best reveals his personality to create this page."
5. the friend's voice
Heather Awsumb says, "This is one of my favorite photos from when my friends and I organized a Masquerade Ball at the nicest hotel in Maseru back in June. As someone without a partner or children I thought this assignment was a good challenge because I really had to think about whose voice, other than my own, to capture. I was inspired by the suggestion to take something someone says and make it a title. My title came to me as I was journaling about my favorite part of the masquerade ball and perfectly captures the personality of my friend who said it." 
6. the imagined voice
Audrey Tan says, "This is about the first time we went on holiday without the dog, and I decided to do a page about him reflecting about us."
"As my boys and I flew out first, I can only imagine him wondering where we were. Thankfully his breeder offered to look after him while we were overseas–which meant at least he would be re-united with his mother and siblings."
7. the teasing voice
Debbie Hodge says, "Two words: Hey, Nancy. That was how my brother greeted my youngest son during our February visit once he discovered Isaac's crocheting hobby. My brother is a "GUY'S GUY" and he loves to tease. He came in every day and greeted Isaac with these words, and then took him off to do carpentry projects. I see these two words in print, and I recall my brother's inflection and his love of teasing and the wonderful time Isaac had with him that week."
8. the conversational voice
Sian Fair says, "This page has grown from a blog post I wrote to document a trip I made with my four-year-old nephew. He has such a great way with words that it's easy to write a fun post using exactly what he has said as a starting point."
"As I recorded my nephew's words and my replies, I realized that it felt like several acts of a play. He knew that he had made me laugh with his first 'I would say yes,' so we kept up our conversation in that spirit throughout our trip, as we traveled on the bus and visited the café and the park."
"When it came to making my layout, I decided to present it as a theatre script (complete with dog eared edges and a stamp of a coffee spill). I emphasized this idea of a theatre script with my 'Behind the Scenes…' title."
"It's a play in several short scenes, just as it really happened. BUT I do think it's important to remember that when you are recording a voice you are actually aiming for the spirit of the conversation: You want to get the pauses in and the flavor of the words  and the verbal mannerisms which emphasize the personality of your subject. If that means a little bit of judicious editing, I think that's just fine!"