Anna Aspnes has been making scrapbook layouts for over a decade. Scrapbooking pages about herself has got Anna excited about scrapbooking lately.
When you come upon a new technique, product, story approach, design challenge or just SOMETHING that gets you excited, you often find that the the creating comes easier and faster. You start using this new "cool thing" again and again because it results in great looking pages, treasured stories recorded, or just more joy in the work. Find out what "cool thing" has Anna Aspnes excited to create currently and check out more ideas in our

Motivated to Scrapbook Series

.
Anna's cool thing right now is challenging herself to capture her own story on her scrapbook pages.
Anna Aspnes says, "I have been scrapbooking for over a decade and have many albums which cover topics such as vacations, events, everyday, and heritage.  When you build a library of memories you gain perspective on how your individual layouts form a much larger picture. Looking at this, it was clear to me that I was missing from the picture. Out of every one hundred photos there is maybe one of me, and as the storyteller for my family, I think my story is an integral part of the big picture.  If I don't include myself, then the story is by no means complete." 
"Scrapbooking has been a therapeutic process of coming to terms with some of my fears and laying them to rest while evolving and growing up through the journey."
In "Just Go" Anna documents a weekend trip that she and her husband had been putting off for 2 years and eventually decided just to go and do it.  Anna says, "It is a celebration of my birthday and our relationship at this point in time. It documents the change in the way we choose to live our lives together at this point in time.  The layout showcases a selection of favorite captures through a combination of blended and circle framed mediums."
Scrapbooking yourself more can be scary, but it can also be empowering and fun
Whether you're a little camera shy or burdened by the profound concept of creating a legacy to leave behind, scrapbooking oneself presents a challenge for most of us. It forces us to confront questions about our own happiness, mortality, and self-image. 
Anna says, "Facing your fears is always a little scary, but there is much satisfaction to be found in lightening a burden or overcoming a challenge.  It's a process that is both empowering and fun.  I am also not one of those people who believes it won't happen to me.  I'm very much a realist and fully aware of my own mortality.  As a mother, I feel I have a responsibility to prepare for any eventuality, and I see my albums as a legacy for those I leave behind.
Anna's page, "Happiness" is an art journaling style page. She blended a current photo by clipping it to a mask layer. The subject she took on is of a pressing feeling about where she's at in this time in her life.  According to Anna, "It's a means of celebrating, as much as addressing, the challenges and joys I face  on my journey through life. It's therapeutically presented through the process of digital ArtPlay."
Scrapbooking yourself creates an opportunity to abandon themed product and experiment with colors and products that speak to YOU.
Pages about you are the perfect place to use products and colors you love while experimenting with new techniques and a fun sense of style.
Anna says "My layout's design is usually inspired by the colors present in the images I want to showcase. Therefore I select products based on those colors.  I want them to support the images rather than overpowering them. This can be easily done with too much thematic content. My main aim in scrapbooking is to get the story and photos on an artsy page in an efficient manner without re-inventing the wheel.  Keeping supply selections to a minimum is key to achieving that goal."
"As a designer I create and use all my own digital supplies which are available in the Anna Aspnes Designs store at Oscraps.com.  I create the supplies for others that I like to use on my own pages.  My approach to digital designing is based more on color than it is on theme which allows greater potential to mix and match supplies for broad use."  
In her note-to-self style page "Savor, "  Anna recorded an important life lesson through art. Anna says "The action of playing with the art allows you to sit with the concept and process its relevance with therapeutic benefit.   This layout blends a single photo and accentuates it through the use of FotoGlows and blending modes to impart light into the page."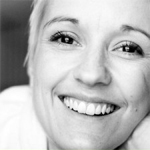 Anna Aspnes is a UK native and military wife living in Colorado with her husband and two children, Ella and Luke.  She is an independent digital designer at Oscraps and is known for her unique artsy style.  Most recently, she's been a guest teacher at Masterful Scrapbook Design and chatting about her passion for modern memory-keeping on the The DigiShow.  Formerly a contributing editor for Digital Scrapbooking Magazine, her layouts, designs and articles have been published in a variety of scrapbooking publications such as Creating Keepsakes and Somerset Studios.
For ideas on writing about yourself for scrapbook page or
if you want to write a memoir, check out Story Coach
.[/box]