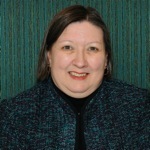 When you're looking for a starting point and ideas for a scrapbook page, you want resources for getting the job done, and Pinterest probably has what you need–if you could only find it.
Scrapbooker Sue Althouse was an early adopter of Pinterest and has made it a part of her daily creative routine since 2010 . Check out her 80+ boards at http://pinterest.com/midwestgirl/ and read on to find out who she follows on Pinterest..
[hr]

What better board for color inspiration than one by Pantone? These compositions are an endless source of ideas for backgrounds and design schemes.
[hr]
Over 400 pins of simple, effective graphic design. Perfect for titles, color blocking, so much more.
Seamless Creativity: website | pinterest
[hr]
Amazing patterns, rich vibrant colors, wonderful texture. Inspiring for the scrapper and the knitter in me!
Patternbank: website | pinterest 
[hr]
Over 200 pins of what one of my favorite scrappers finds inspiring.
[hr]
Write. Click. Scrapbook's Sketches Board
These clean and simple sketches are perfect starting points for getting the creative juices flowing.
Write. Click. Scrapbook: website |pinterest
[hr]
Using Inspiration
Below is an example of how Sue has used a pinned scrapbook page to inspire her own pages. Sue says, "When using Pinterest as a source of inspiration, I often will take ideas from several pins and attempt to combine them on one layout. I enjoy the challenge of piecing together the creative puzzle I've given myself. "
"But sometimes a single pin is all I need. For instance, I was inspired by the topic of  scrapbook page "Current Obsessions" by Tammy Dailor at Your Memory Connection and knew I had the supplies in my stash to create something like it. The overall design placement is similar to the inspiration page, but the product choices and finishing touches are my own." 
Sue  lives in southeastern Michigan with her husband of 30+ years and two spoiled cats. She also has one grown son who is married. Sue has spent her days teaching piano lessons for over 20 years and loves working from home.
Sue started scrapbooking in 1999 after she took a trip to Israel and Egypt and came home with a plethora of pictures and memories. She knew she wanted to do something more than slap pictures in an album. After attending her first Creative Memories party –as they say, the rest is history!  When Sue's not teaching piano or scrapping, you might find her reading, knitting, watching NCIS, or rooting for her beloved Ohio State Buckeyes or Detroit Tigers – sometimes even doing several of these at once!
[getinspired]