When you come upon a new technique, product, story approach, design challenge or just SOMETHING that gets you excited, you often find that the the creating comes easier and faster. You start using this new "cool thing" again and again because it results in great looking pages, treasured stories recorded, or just more joy in the work. Find out what "cool thing" has Krista Sahlin excited to create currently.

 
Krista's cool thing right now is using tape to add texture to her digital pages.
Krista has found that tape is a quick and easy way to add dimension and give her pages a realistic look.  She enjoys reworking this in many of  her pages.
Krista says, "One of the things I love about tape is that it adds a wonderfully realistic feel to digital pages–like your photos are actually 'tacked down' by the pieces of tape.
Though I was going for a simple and clean look on 'Wicked Smart,' after looking at it for a while I knew I wanted more realism. I added a few strips of tape to pop the layers off the page."
Tape is a great way to add texture on top of texture.
Piling texture on top of texture can be used to create visual interest. For digital scrapbookers, it's a way of adding even more 'realism.' Because of its opaque qualities, tape adds depth without a whole lot of bulk. 
Krista says, "I love when when my digital pages look as though I can reach out and touch all of their layers.  I enjoy combining taped photos and ephemera with textured backgrounds, and I also like adding dimensional ephemera, flowers and other bits to layer up my page and give it a nice textural look. On 'At The Beach,' the papers I used had a great deal of texture already, but I added just a bit more by using tape to tack the photos down."
There's no right or wrong way to use tape on your scrapbook pages!
Whether you're a paper scrapbooker or a digital scrapbooker, tape is easy to use–just throw a few layers down on your page and start taping away. 
Krista says, "I love nothing more than to throw down a bunch of photos onto my page, shadow, and then start taping everything down. There are no rules and no way of messing up! I also like using Katie Pertiet's Taped Photo Collages.  These are a great starter for using tape on your digital pages and make the process even simpler."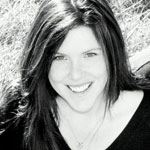 Krista Sahlin
Krista is a wife of 11 years, married to her best friend & IT guy, Aaron. She is a mother to two wonderful and rambunctious kiddos, Sophia (9) and Gabe (7). Krista has scrapbooked since high school, and once she found digital, she never looked back. Krista is now her family's avid memory keeper (or scrap addict), and has been blessed by being able to combine her love of digital scrapping with a career of designing scrapbooking products.
Her digital scrapbook designs can be found at The Lilypad under Sahlin Studio. You can find lots of inspiration, digital scrapbooking freebies and tutorials on Krista's blog: Sahlin Studio.