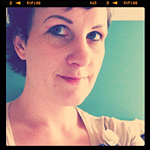 When you're looking for a starting point and ideas for a scrapbook page, you want resources for getting the job done, and Pinterest probably has what you need–if you could only find it.
Leah Farquharson loves using inspiration she finds on Pinterest as a jumping-off point for creating her scrapbook pages.  Check out her 65+ boards at http://pinterest.com/bluebirdchic/ and read on to find out who she follows on Pinterest.   
[hr]
Packaging inspiration which can lead to ideas for page elements, color combinations, and even font/title choices.
[hr] 
October Ink's BRAND ME Board
Lots of logo and branding inspiration, great for title creation and overall placement .
October Ink: website | pinterest
[hr]
Ness Lockyer's Entertain Board 
Ideas for mixing clean and modern elements with more artsy and/or rustic elements in your scrapbook pages.
[hr]
An awesome source for artsy inspiration.
[hr]
Skye Hardwick Edmonds' Reverie Board 
Plenty of photo inspiration here including poses, treatments and more.
[hr]
Using Inspiration
Below is an example of how Leah has used inspiration from Pinterest in her scrapbooking. She used a collaged image of a man reaching out over a pattern of triangles. See inspiration.  
Leah says, "The pin that I used for inspiration in my project prompted the photo placement and triangle design element of my page, but I chose to use less pattern on the bottom portion, and more artsy design elements on top. The explosion of elements on top helps give the page that feeling of excitement over the topic of summer."
Leah also has the following advice to offer about using Pinterest as a source of inspiration:
"The biggest thing that made my pinterest browsing more effective as a source of inspiration was identifying the basic elements of my style. Once I picked up on that, I was able to follow people with the same basic sense, and pin things from them that inspire me." 
Leah is a wife and mommy, who makes her home in the sunny, South Florida Metro Area.  Leah has been crafting since she was a young child and in January of 2011 launched her own handmade craft business BluebirdChic.com.  Aside from meeting her husband and starting their family, opening her own craft business has been one of the most exciting adventures of her life.
Leah scrapbooks for fun and has had the privilege of working with some of the best in the industry–sharing their products and inspiration. Leah likes to put the focus on journaling and telling stories in her pages and never thinks it's a selfish thing to scrapbook about herself.
[getinspired]