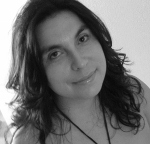 When you're looking for a starting point and ideas for a scrapbook page, you want resources for getting the job done, and Pinterest probably has what you need–if you could only find it.
Christy Strickler (aka Emeraldvalkerie) often uses inspiration found on Pinterest to inspire her scrapbook pages.  Check out her 150+ boards at http://pinterest.com/emeraldvalkyrie/ and read on to find out who she follows on Pinterest.   
[hr]
Tons of great artsy inspiration can be found here.
[hr] 
Tons of fun techniques and tutorials, both scrapbook related and non-scrapbook related.
[hr]
Tammy Gray's Buttons Board 
Round-up of ideas for using buttons in in various projects.
Tammy: pinterest 
[hr]
Great collection of technique-based tutorials and inspiration.
Marjoline: website | pinterest
[hr]
Awesome source of color, pattern and design inspiration.
Craft Organic: website | pinterest
[hr]
Using Inspiration
Below is an example of how Christy has used inspiration from Pinterest in her scrapbooking.
Christy says, "My layout was directly inspired by this vingette showing a blue and gold leaf-patterned wallpaper backing up a textured blue lamp on a blue dresser holding pies." (See inspiration.) 
 "I loved the texture of the blue on the golden yellow and to recreate that, I mixed blue paint with modeling paste. I sprayed some golden yellow mist and then applied the blue modeling paste with a stencil. In the photo, there are bowls sitting on a wood dresser. I used Inka Gold paint on a wood border. The doilies are circular and remind me of the bowls on the table.
Though originally from Florida, Christy currently resides in Nassau, Bahamas with her husband, son and three striped island cats. She began scrapbooking in 2001. Since then, scrapbooking has become both an obsession and a creative outlet.  
When she is not scrapbooking, you can find her spending time with her family, homeschooling her son or playing a video game. She is currently a JBS Mercantile Ambassador and part of the creative staff for Scrapbook News and Review Magazine.
[getinspired]