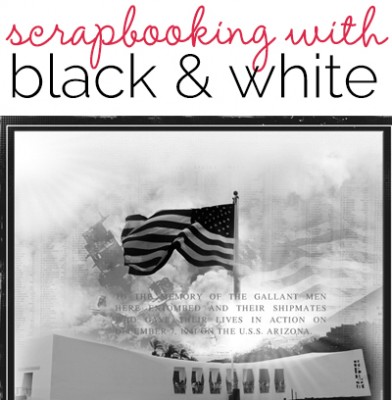 Creating a black-and-white scrapbook page offers opportunities and challenges. You can create eye-catching contrasts, but attention to values becomes important for adding interest, creating a focal point, and guiding the eye. See how our Creative Team has approached this challenge — and make your own page.
Take the challenge: Make a new black-and-white scrapbook page. Put it in our Community Gallery with "B&W Challenge" in the title by end-of-day Monday, June 10, and be entered into a drawing for a $15 Get It Scrapped gift card. Congrats to Annie B winner of the gift card. Click to see her page.
use black and white for striking contrasts
Amanda Jones says, "Lilies are one of my favourite flowers and invoke many memories for me – on this day the lilies I found in the garden stirred up some less than happy thoughts. Despite the cheerful nature of flowers in general, when I found these lilies the mood was more melancholy. To capture this without words I printed the photo in black and white and created my page without colour. I find black and white to be a great way to achieve contrast on a layout. To ensure that the contrast between dark and light was accentuated I kept the other elements on my page a similarly small size to avoid other conflicting contrasts."
Amy Kingsford says, "I made this page for my husband, so that he might always know what a wonderful man he is.  I think the high contrast b&w color treatments for my photos were perfect for highlighting their details and I love the masculine feel that this achromatic color scheme created when paired with a bold and graphic page design.  I think that an all black-and-white page has the capacity to be very striking and I tried to keep things clean and simple and focus on a nice balance of contrast as to create the most amount of visual pop in my page as possible."
Barb Brookbank documented the development of her photography skills with a clean and high-contrast black-and-white page. 
incorporate a range of gray values for a compelling black-and-white composition 
Terry Billman says, " My husband and I recently took a trip to Hawaii and visited the U.S.S. Arizona Memorial. This page was created as a tribute to the men who lost their lives on this dreadful day in 1941.  The photos taken at the memorial basically had no color other than the water and the trees in the background, which made them perfect for a strictly black-and-white layout. There are actually four photos (the actual memorial, the stone wall with the names of those that lost their lives, the photo of the Arizona sinking, and the American flag) in this layout blended together to depict the memory of this horrific day.  I added texture to the water to give the layout dimension and strategically placed foto glows to accentuate the flag."
add interest to black-and-white layouts with texture
Kiki Kougioumtzi says, "This layout is about a tough period in my life, when really good and really bad things happened and I had to balance things. This contradictory situation was perfect for an absolute black-and-white layout. The absence of color gave me the opportunity to work with texture to make the layout more interesting visually. I have smooth/soft areas (acrylic paint,shinny embossed paper, feathers, ribbon, rub-ons) and rough areas (crackle paint,glitter,gemstones,tangled thread,crinkled tissue paper)."
Brenda Becknell says, "In an effort to get a few photos of myself into my scrapbook albums, I took this self portrait by shooting into the mirror with the flash turned off.   There wasn't a lot of color in this photo to begin with, and since color wasn't important to the theme, I converted the photo to black and white.   I didn't want the page to be boring, so instead of adding color, I added texture:  dotted cardstock,  foam alphabets, filmstrip transparency, large button, ribbon and twine.  I also varied the types of patterned papers, with two types of text, polka dots, and tiny flowers."
use black and white for a formally-styled page
Rosann Santos-Elliott says, "This layout is about my cousin and her husband on vacation this past year for their anniversary. I titled it admire because I admire their marriage and their relationship. I used a Martha Steward punch to mimic a net and the silver charms represent some items that could be found in the net at a beach."
use black and white for meaning and mood
Audrey Tan says, "We went camping during the spring break and it was awfully cold. Despite the weather, we couldn't resist tucking into the well-known Cornish ice-creams. The black-and-white colour works well here as the weather was sombre and chilly and it fit the colour scheme perfectly!"
Vicki Walters says, "The subject of this page one that is "black and white." Bullying is never OK and that's  black and white, no colors, no exceptions!"
one bold color with black-and-white compositions
Adryane Driscoll says, "This is a photo of my son taken almost 6 years ago.  I converted the photo to black and white to reduce the impact of the distracting background. Then, I went with a black-and-white with one color (yellow) scheme. I like this for graphic-looking and dynamic pages."
black and white with small amounts of color in light values
Chris Asbury scrapbooked a black-and-white heritage photo on "My Irish Ancestors. She says, "To keep the focus on the black-and-white photo, I created a clean layout with few elements, generous white space, and a bit of red for accent."
Audrey Tan says, "While on a recent holiday, my boys had their portraits drawn and 'tooned.'" Most of the page is rendered in black and white with limited gray tones. Around the edge are pale splotches of several colors, which work to frame the high-contrast focal point."
Win a $15 Get It Scrapped/Masterful Scrapbook Design Gift Card
Join the challenge: Make a new black-and-white scrapbook page. Put it in our Community Gallery with "B&W Challenge" in the title, by end-of-day Tuesday, June 11, and be entered into a drawing for a $15 Get It Scrapped gift card.