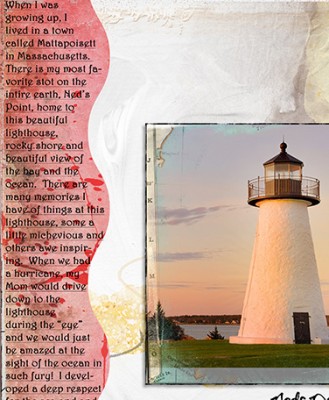 by Debbie Hodge
The text of your journaling has a shape. It also takes on visual weight and can even set a mood.
When you're deciding how and where to place your scrapbook page journaling consider:
how you might place and shape your journaling to enhance the story you're telling

how you might place, shape, and weight it to strengthen the visual design of your page.
In Tension, Story, Focus and Flow, one of the 10 lessons I teach on stepping up your page design is called "Shape Up." Take a look here are pages our creative team made inspired by that lesson.
Kiki Kougioumtzi says, "Teasing among little children can be hard sometimes for a sensitive one, and comforting words from mom are always welcome."
"Inspired by a text design at Curiosities by Dickins with the message "be someone's umbrella today" I cut an umbrella shape with my Silhouette Cameo and the wrote the journaling onto it, following its shape.
Adriana Puckett says, "My daughter had a bowling party for her 12th birthday, and this layout captures the basics of the event."
"I was drawn to a circular journaling shape because, in conjunction with the other circles, it reinforced the bowling theme without requiring I use themed product. I typically don't use shaped journaling but I really liked it for this layout."
Sue Althouse says, "This page is about our visit to Perry's Monument on South Bass Island in Lake Erie."
"The two areas of journaling are each arranged to mimic the chronology of our experience at the monument. First, I cut apart a 4×6 journaling card and re-arranged it from bottom to top, so the reader goes UP the page, just as we rode up to the top of the monument. Next, two journaling strips span the length of the entire 2-page spread. These are placed directly below the panoramic views we enjoyed at the top of the monument so the viewer can scan both at the same time."
Barb Brookbank says, "This layout is about 'mother' being a verb with a look at how my daughters are mothering a new baby and his young cousin." Barb put her journaling on either side of her photo–hugging it as one would a baby.
Stefanie Semple says, "We have cold fronts rolling through, bringing rain, and nothing says 'chilly' better than 4 cats curled up together on my bed–much different from the summer when they are spread out (proving the adage that the length of the cat shows the heat of the day)."
"I used an arrow to hold the journaling because it is an indication of the weather changes taking place as we move through the year. I left the layout fairly open to denote the space left open on the bed as they all huddle together."
Deborah Wagner says, "I don't scrap myself very often; but after seeing a page by Lynnette Penacho in Tension, Story, Focus and Flow. I was inspired to scrap about my 55 favorite things at the age of 55."
"Circles connote the idea of the circles of life, and I used a circle text path for rendering this journaling about my own life journey so far."
Michelle Houghton says, "My brother Matt likes making my daughters laugh, so he told them he would be needing help on our vacation eating 'doughnuts the size of our heads.' We made sure to get photos of the girls doing their fair share."
"I cut doughnuts out of kraft cardstock and patterned paper and decided to add both my title and journaling right on top of them.  The journaling works inward on a spiral so it is a little harder to read but makes a fun addition to the page." Check out Michelle's tutorial on How to handwrite in shapes on your scrapbook and journal pages.
Audrey Tan says, "While on a recent holiday, my boys had their portraits drawn and 'tooned.' I scrapbooked the drawings adding my  journaling around the figures."
Vicki Walters says, "I used a digital shaped text template with a wavy border that echoes waves in the ocean and goes with my lighthouse photo and journaling about growing up near the ocean and my ongoing respect and love for it."