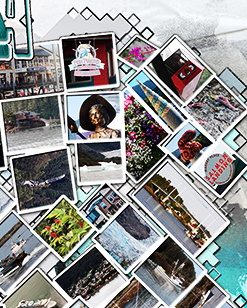 by Debbie Hodge
Mosaic, the making of images by combining small pieces of glass or stone, was a primary form of decorative expression in antiquity. Its use arose independently in a number of cultures, with the earliest in China. Mosaics continue to decorate homes and architecture today — and digital technologies make new approaches possible.
Take a look at your supplies and photos and see what kind of mosaic technique you could use on your scrapbook pages.
make a tiled mosaic
Christy Strickler says, "My son used to love jumping in the pool over and over again while his dad caught him. Mosaic patterns always remind me of the tilework in swimming pools. To create the look of patterned tiles, I used tile spacers and patterned paper. Real tiles would have been too heavy for paper. I cut  paper into one inch squares which I then embossed with Ranger's Ultra Thick Embossing Enamel ( UTEE). While a few of the paper tiles were still hot, I stamped them with a small fish. Staz-on ink works best for stamping in UTEE. I used liquid adhesive to adhere the tile spacers."
Amanda Jones says, "This page documents two photos of the sky that represent a past time in my life."
"I was inspired to replicate a classic tile design with cardstock. I inverted the colour scheme and cut .5″ squares of grey cardstock with my paper trimmer. As I was piecing it, I found that even a tiny variation in size made a big difference in my ability to line up the design. Next time I try this technique I will cut my squares with an electronic die-cutter to ensure they are exactly equal in size." 
make a mosaic embellishment
Sue Althouse says, "This page is about how peaceful life can be sitting on a deck with the ocean in your back yard. I incorporated a mosaic sunset embellishment to represent the day drawing to a close."
"I cut the sunburst shape from kraft card stock with my Silhouette Cameo and filled in the negative space with paper in a series of analogous colors. To do this, I cut the colored paper into increasingly smaller circles, inked the edges and layered them."
fill a band with a mosaic 
Marie-Pierre Capistran says, "I had just taken a mosaic class before traveling to Barcelona and was really impressed with the  mosaic I saw there. I scrapbooked the trip incorporating a mosaic of buttons and brads as a backdrop for my title. I used a variety of shapes, colors and sizes of buttons. I wanted my title to be elevated so I used very thick buttons and brads."
Ashley Horton says, "I snapped this photo of our little boy as we were getting ready for a bike ride. Inspired by a sketch with a band foundation from Creative Scrappers and this architectural inspiration piece I made my mosaic of patterned paper blocks in three sizes (1″ , 1.5″ and 2″).  Over these I layered a few black grid overlays that I cut with my Silhouette Cameo. 
break a large photo into a mosaic of pieces
Michelle Houghton says, "Both of my girls LOVE Lego building bricks. When given the opportunity, they spend a lot of time playing in a Lego store.  I created a mosaic effect with the photos here, breaking large photos into multiple pieces to support the Lego theme. Breaking a large photo into pieces and creating a mosaic is easier with photos that are busier(think flower garden) than these with the open expanse of flooor and wall."
Amy Kingsford says, "This page is about how I learned to transform my boys' transformer toys, and the joy I felt when they started coming to me for help even when their father was home!"
"I was inspired by the placement of the blocks in a template by Amy Martin and thought that it would be fun to use their configuration to break apart a single photo so that the details overlapped one another in a way that created a mosaic effect. I re-sized my photo so that it was just barely larger than the whole of the cluster of blocks and clipped duplicate versions of the photo to each individual block. This way I could have control over the details that were highlighted in each individual block. I played around with making some of the blocks black and white or desaturated in an effort to capture the color variance of a mosaic photo, but in the end I loved the color of my original photo too much."
make a mosaic of smaller photos
Vicki Walters says, "I started this page with a map of Alaska, and then used the Photoshop Plugin Filter Forge  to "pixelate" it. The result was a guide for creating a mosaic of snip-its from photos taken on a trip to Alaska."
Adryane Driscoll says, "The mosaic portion of this page is made with old Hitchcock movie posters. For those of you who are not big Hitchcock fans, he often left subtle clues in his movies for the viewer to find. 'zzy yet?' is 'dizzy yet?  from Vertigo, and 'king in? is 'checking in?' from Psycho, and I included them both."
"It took hours to create the mosaic, but I like final result because it has depth. The hardest part of making the mosaic was finding a way to have a repeatable pattern that didn't look like it had been repeated.  I did that using drop shadows, and size and blending variations."
more mosaic inspiration
Looking for more ideas and inspiration for doing something creative with mosaics on your page? Check out our Mosaic ideas Pinterest Board.[current]