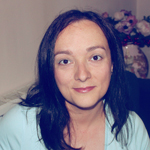 When you're looking for a starting point and ideas for a scrapbook page, you want resources for getting the job done, and Pinterest probably has what you need . . . if you could only find it.
Kiki Kougioumtzi uses inspiration found on Pinterest to inspire her scrapbook pages, both in part and in whole.  Check out her 40+ boards at http://pinterest.com/kikik/ and read on to find out who she follows on Pinterest.   
[hr]
Ideas for creating your own paper flowers for your layouts or home decorations.
[hr] 
Birgit Koopsen Bernstein's Techniquez Board
Tons of fun techniques to try on your layouts.
[hr]
Posing ideas, tips and inspiring photos with children.
[hr]
Great collection of inspiration and free cutting files for Silhouette users.
[hr]
Christine Newman's Organization Board 
Ideas for organizing your scrapbooking supplies.
Christine: website | pinterest
[hr]
Using Inspiration
Below is an example of how Kiki has used inspiration from Pinterest in her scrapbooking.
Kiki says, "I love rainbows. To be precise, I love the ROYGBiV arrangement. I have most of my scrapbooking supplies organized in this manner and I even have a rainbows board on Pinterest. One of my first pins was an iPod advertisement of ipods arranged in an rainbow of colors — with paint dripping from each. It led to the following layout. I liked the columns of color arranged in roygbiv. The color dripping, breaking at the top from photographs. I kept the color dripping and the columns but I turned everything to it's side to add interest (I think that human eye is trained to see drippings going downwards not sideways)
Kiki lives in Athens, Greece  and is a SAHM to a sugar & spice girl, a wife to an understanding and loving husband, and a creative spirit from the day she first walked.  In 2006 Kiki opened an issue of Scrapbook Answers Magazine and it was then that she knew she was hooked and she's been scrapping ever since.
Kiki actually began as a digital scrapbooker because she found it difficult to find the products she wanted in her country. After a year or so of experimenting with Photoshop Elements/Photoshop, Kiki discovered the joy of online shopping and now she's a  paper and glue scrapper and she's not looking back!  Kiki enjoys finding inspiration wherever she can  including photos, everyday life, her fellow scrapbooking bloggers–and lately Pinterest!
Photos and stories, color and design principles, pretty paper and painting mediums are Kiki's happy place!
[getinspired]