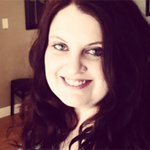 When you're looking for a starting point and ideas for a scrapbook page, you want resources for getting the job done, and Pinterest probably has what you need . . . if you could only find it.
Amy Kingsford uses inspiration found on Pinterest to inspire her scrapbook pages, both in part and in whole.  Check out her 80+ boards at http://pinterest.com/askings/ and read on to find out who she follows on Pinterest.
[hr]
A random collection of all types of inspiration.
[hr]
Tons of amazing paper and digital scrapbooking pages.
[hr]
An awesome roundup of 8.5 x 11 scrapbook pages.
[hr]
Great mix of graphic design and typography inspiration.
Peppermint: website | pinterest
[hr]
Louise Jeffries' Color Board
Tons of fun color palettes to help guide your color choices .
Louise: pinterest
[hr]
Using Inspiration
Below is an example of how Amy has used inspiration from Pinterest in her scrapbooking.
Amy says "I was drawn to a graphic of  home and the divided sections within it–each with a different color. See inspiration: The Psychology of Color.  Though I liked the graphic/artsy feel of this inspiration piece, as I began playing with the idea of the home I realized I wanted to capture more of a vintage charm.  Thus, I used this inspiration piece to created a house-shaped template that could hold my photos in each of the compartments and then accented it with several "found" and vintage style supplies that helped me to establish a cozy feeling in my page and that reminded me of being at home.
Click here to download the template that Amy used in her page or to see more examples of how Amy uses inspiration from Pinterest in her scrapbook layouts, visit her blog and check out her Inspiration Station Challenge.
Amy  is a happy wife and blessed mother from Northern Utah. Amy writes for and administers the Get It Scrapped blog. She's also our Creative Team Coordinator and a teacher at Masterful Scrapbook Design.  In addition to her work here, she teaches at Creative Passion Classes and also shares ideas, inspiration, and instruction on creative approaches to modern scrapbooking and papercrafting at her site AmyKingsford.com.
[getinspired]