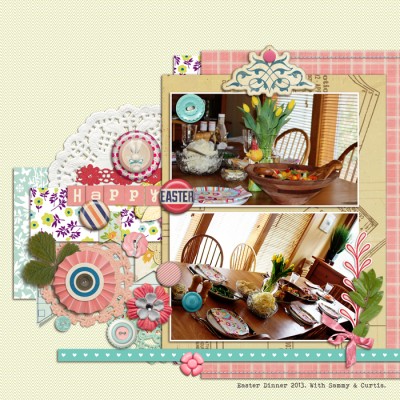 by Debbie Hodge
When I began this page I knew that I wanted to make a page that included lots of buttons and pretty bits in a profusion alongside two photos from the Easter Table.
I started with two same-sized photos. It took me a bit of time to figure out that I needed to limit my color choices and make a foundation for those many little bits in order to make piece that was unified rather than chaotic.
Beginning with two photos is a common starting point for me. You can learn to make great looking pages efficiently by using this kind of a starter at GetItScrapped.com / scrapbook coach.
RESOURCES:
Patterned Papers: Enchanted by Dear Lizzie, Pretty Party by Crate Paper; Eclectic Easter by Just Jaimee; Doilies: Love You More than Ice Cream by Jenn Barette, Seas the Day by Ju Kneipp; Buttons & Bows: Delighted by Lynn Grieveson, Eclectic Easter by Just Jaimee, Never4Get by Ezane, This is My Story by Little Butterfly Wings, Springsong, Sprinkles 9 by Valerie Wibbens, 5th and Frolic by Dear Lizzie, Hey There, Nana's Buttons, Woodside Jangle, King Me by Katie Pertiet, Sketchbook by Amy Tangerine; Stitching: Stitched by Anna Baby Blue by Anna Aspnes;Alphas: Eclectic Easter by Just Jaimee; BannerTemplates: Anna Aspnes; Bohemian Typewriter font