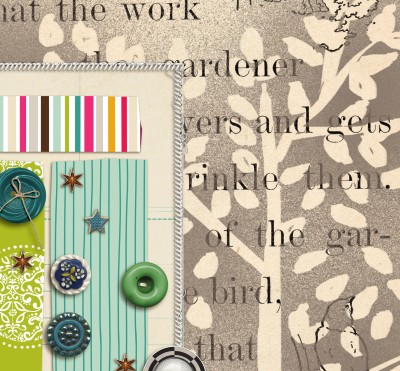 by Debbie Hodge
As more of us read books on electronic devices, the actual paper page takes on an aspect of nostalgia — and of the treasured! Book pages for making art are available in digital forms, in torn bundles from Etsy, and in books you pick up at the flea market. Check out our ideas and resources for using book pages on your scrapbook layouts. 
 [hr]
[twocol_one]
Ideas
->Use a book page as foundation, mat, patterned paper layer or block
->Make an embellishment from folded/rolled book paper
-> Punch/handcut an embellishment from book paper
-> Print an image to book paper
-> Mask an image on book paper and paint around it
-> Clip words and phrases for embellishing from book paper
-> Paper-piece (and paint/color) an image from book paper for embellishment (i.e., a bird or paper doll)
find more ideas on:  our Book Paper Pinterest board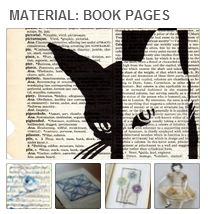 [/twocol_one]
[twocol_one_last]
Resources
actual book pages: search Etsy for "vintage book paper packs"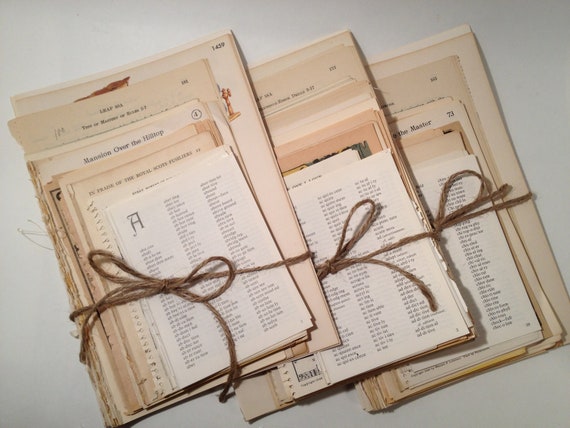 scrapbooking paper:
American Crafts 

Soho Garden

Jenni Bowlincoordinated collections, including 

Haven
link us up to your favorite papers in the comments and we'll add them here
digital scrapbooking paper:
link us up to your favorite digital papers in the comments and we'll add them here
free printables: search for vintage printable music on Pinterest
[/twocol_one_last]
[hr]
use a story book page as patterned paper
Kiki Kougioumtzi included a page from one of her daughter's favorite books. She says, "From the moment my daughter began to read without much effort, she loved to read her bedtime stories to me. Because of the bright colors and the beautiful imagery on this book page, I used it as I would a scrapbooking patterned paper. The scene of the page fits my bedtime photo."
Doris Sander says, "I often include old book pages on my projects as they add a vintage charm and timeless quality that I love.  Typically, I use random text or dictionary pages.  On this layout, I also included a page with art torn from a children's storybook.  It reminded me so much of my dad watching his "pet" squirrels run around the yard year after year.  I've been saving it for quite some time, and while these photos and this layout aren't about the squirrels in particular, they are about my father and the rich outdoor heritage that he's passed down to his children and grandchildren.  I think the two topics coincide quite nicely."
cut your title from book print paper
Vicki Walters used book page patterned paper to create a page with a newspaper feel. She clipped book paper to bold type and overlaid it in different sections with a variety of blending modes. She says, "The photo is a bad phone photo so I used the halftone filters to give it a newsprint look."
cut talk bubbles from book pages
Christy Strickler scrapbooked her son's super-hero-themed birthday with comic-print patterned paper and found that book pages were a great complement.
She says, "I cut talk bubbles out of the book paper (scanned pages from a Batman novel my son is reading printed to cardstock) and wrote phrases to go with the photos of my son opening his gifts. I traced chipboard talk bubbles onto the book pages, and cut them out. I like that these papers have Batman's name and other relevant characters mentioned in the text."
print an image on a book page
Adryane Driscoll says, "This page was inspired by images of glamorous stars overlaid with book print pages pinned on the Get It Scrapped Materials: Book Pages Pinterest Board.  I wanted to replicate the look but with more color.  I used an old page from a dictionary as the background.  The text makes an interesting background for the photo. To give the page a worn look, I layered other papers over it and played with the blending modes."
punch or hand cut flowers from book pages
Brenda Becknell says, "My 3 year old granddaughter LOVES books and goes right to her stack of books every time she visits us, so I had to snap this photo of her 'reading' one of the Sesame Street books. Using book pages seemed to go perfectly with the theme of reading love, so I made the flowers on this page from an old paperback book that belonged to my daughter.  (I couldn't stand to throw out all my kids' books so they were all boxed up in the attic.  When I went through those books last year to find some for my granddaughter, I noticed a few of the paperback ones that were damaged.  The largest flower was a plain chipboard element that I covered w/book paper and the smaller two flowers were die cut.  For a little color, I added spritz the flowers with color mist and added some glitter glue to two of them."
Amanda Jones says, "The pictures on my layout are of my Mum and her friend training for their jobs in the pharmacy back in the 60s.  I created flower shapes with book pages from an antique dictionary as embellishments for my page. As the page is about learning the ropes of their new jobs, the book pages worked well to reinforce the learning aspect and the floral shapes add a feminine touch without being too girly."
"To make these book print flowers, I cut strips of book paper and layered them into flower shapes, and used buttons for the centers of the flowers." 
layer bookprint stamps or digital brushes on patterned papers
Stefanie Semple says, "I love reading and choose this form of escape almost every day. I used to be a book girl but have welcomed  a kindle app on my ipad so now I read both books and ebooks."
You can purchase digital brushes and transfers of book print and layer them over and combine them with patterned papers.
Stefanie says, "Many of the papers on this layout have printed words on them, I also included a flower cut from a book page, cut with a scalloped edge and stamped with yellow and then rolled up. The banner across the top also could have been made with book pages that were inked or misted. I loved all the text in different layers to celebrate my love of reading. Because there was text on the back ground page, I used a grunge brush to "stamp" a white layer behind my journaling so that it would be easy to read."
paint over book pages with bold colored paints
Amy Kingsford says, "This page is about my son's strong-willed nature and, at times, being able to step back and appreciate it. I was going for a bold and flashy look, and found this awesome painted text book page in a digital kit by Michelle Godin ('Fierce').  Its color and the artsy feel were perfect for making a statement, and the text book page base alluded to the underlying idea of lesson-learning–which is exactly what this instance was for me–an opportunity to learn a lesson from my son." 
mask a shape and paint around it to let book print show through
Debbie Hodge combined a childhood storybook print with the masked image of a tree to create a foundation that supports the idea of her son with his childhood friends growing up, strong and happy. She says, "I layered a tree sticker over the paper, selected it digitally then selected its inverse and misted in the areas around it to let the book print show though. While I like the look of this, I think the effect could be even more dramatic with much smaller print and misting that more heavily covers the surrounding text."
[current]