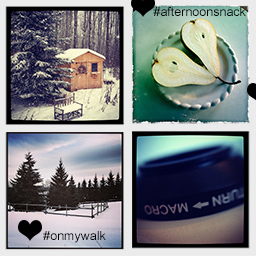 by Debbie Hodge
Squares are familiar and stable shapes. Their right angles and equal sides suggest order, equality, and even conformity. So how do you leverage the stability of squares and steer clear of boring? Our team and teachers show you ideas for how they like to use square photos on their scrapbook pages.
Squares are great for grid designs
Amanda Jones says "I created this page to show the drastic change in view from my living room window following a three hour downpour of snow. When I work with more than one square photograph I almost always end up with a grid-style page design. I like the fact that I can mix photos with similar sized pieces of patterned paper to create a block. It's a nice way to work with pictures that don't require one strong focal image."
Ashley Horton often works with square photos on her scrapbook pages. She says, "With the popularity of Instagram and other photo apps, square photos are easy to upload and print from your home computer or through photo printing services. One of the big advantages to designing with square photos, is that many of us are designing on a square canvas. This makes setting up a grid design easy. Here I've paired square photos with square patterned paper pieces."
Lisa Dickinson arranged six small square photos in a "haphazard" grid, with most of the photos tilted and jiggle just a bit off the grid. The resulting design conveys both the repetitiveness of her daily coffee "addiction" and the jittery feeling that too much caffeine can trigger.
Square photos are great for a series showing activity
Celeste Smith scrapbooked a series of photos of her new kitten playing in the leaves in a column of three photos. They balance well and convey a sense of the kitten's play better than just one photo would.
Debbie Hodge has arranged her square photos in a grid, but they are several shots taken within a couple of minutes, shots that show the play of her son and friends at the beach. Debbie says, "Using small square photos lets me get more on the page along with title and journaling and get a sense of an activity."
The square crop is great for detail shots
Terry Billman says, "My granddaughter and I love having popcorn snacks at football and basketball games. I particularly like working with square photos when I zoom in and crop photos as close ups. The square shape seems to work well allowing me to fill the frame, highlighting  the details of a photo."
Brenda Becknell says, "I often find working with square photos to be challenging, because I try to fill the whole (rectangular) frame when I'm taking pictures, and it can be hard to crop to a square.  In this case, I wanted to focus on my grandchildren's faces, so cropped in close to get 4″ x 4″ squares. I didn't worry about cropping out the background.  To soften the many straight lines in this layout, I added round number stickers and buttons and a scalloped border sticker."
Stefanie Semple says, "I like to celebrate the 'in-between' birthdays, and this layout is about my 42nd — and the food at the party. It's often difficult for me to crop my rectangular photos to square since I tend to fill the frame when taking photos. With these food snaps, though, it doesn't matter if something gets cut off, and square crops were great for this subject."
Squares balance well
Tara McKernin says, "This layout is about my love of the garden centre, gardening, and spring–and my dislike for bugs. This layout was particularly easy to work with square format photos since they are all phone shots from my Instragram feed.  I love the square format because it gives you more opportunity to experiment with interesting crops.  I also love the sense of balance a square brings, especially with working in a group of images."
Audrey Tan says, "This page is about celebrating Chinese New Year with a traditional meal. I documented the dishes that we enjoy and how we serve them."  A series of three square photos balances well on the canvas.
Get more photos on the page with squares
Kiki Kougioumtzi says, "The layout is about an exhibition of old cars. Since the older photo format was a square, I found it appropriate for this subject. It adds to the nostalgic tone. Working with a square photo yields a page that is organised, more in order than one with rectangles. You can also fit more photos in a layout if they are square."
Vicki Walters says, "On this layout I have repeated the same photo ten times.  On the first side is the photo with two different photo effects.  On the opposite page are nine photos that came from combining the first two photos in a variety of ways using layering and digital blending modes.  The purpose is to encourage experimentation and find how exciting it is to discover so many possibilities. I love square photos!  They're easy to place and arrange."
Katie Scott says, "Square photos are trendy right now but they are also an old standby. I love to use up the odds and ends photos from an event by cutting them into 3″ x 3″ squares and matting them with 3.5″ x 3.5" patterned paper to create a grid layout that I use as a filler page in an album. On these types of pages, I also use up leftover patterned papers and stickers, so just about nothing matches."
"These are leftover photos from my daughter's field trip from 2 years ago. I've already made a scrapbook layout and a minibook about this event so this page was just a way to use up the remaining photos."
Square is the shape of the Instagram photo 
Barb Brookbank says, "I'm really having fun with Instagram and I think it's a fantastic way to document little everyday moments. Here I 'lifted' the layout of my Instagram page and added hashtags, words, and hearts. The Instagram font isn't a free font so I used Rickles for the "I" and Reklame Script for 'nstagram.'"
Doris Sander says "I tend to tilt my camera at an angle when I photograph with it, so the photos will fit nicely into a square when I upload them to Instagram. This photo of my son had a little too much tilt, however, and I was wondering how I was going to make it look good on the page. When I lined it up with the first photo and the heart, I just naturally placed it in the middle as a diamond. I really liked the look of square, diamond, and heart all in a row and felt like the diamond tilt gave the photo a lot more presence on the page."
[current]