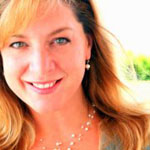 When you're looking for a starting point and ideas for a scrapbook page, you want resources for getting the job done, and Pinterest probably has what you need . . . if you could only find it.
Scrapbooker Katie Scott's favorite way to use Pinterest is as a one-stop shop for inspiration and ideas for many aspects of her life–including scrapbooking. Check out her 120+ boards at http://pinterest.com/katiescott/and read on to find out who she follows on Pinterest.   
[hr]
Emerging scrapbook trends and special sneak peek videos of upcoming scrapbook products.
Scrapbook.com: website | pinterest
[hr]
Ideas for creating your own embellishments using scrapbook supplies you already own.
[hr]
Kara Schermerhorn's Quilts Board
Beautiful quilt designs that are great for helping you to mix patterned papers on your scrapbook pages.
Kara: pinterest
[hr]
Julie O'Dell's Too Cute Board
Wonderful photography of baby animals–perfect for getting the conversation rolling with you children and sparking both funny and meaningful stories for your scrapbook pages.
Julie: pinterest
[hr]
Quotes that are perfect for use as inspiration for both travel and everyday pages.
Taveline Travel: website | pinterest
[hr]
Using Inspiration
Katie's page "Adventure" was a half-done page sitting in a pile before she turned to Pinterest for a little help.  Katie says, "I wasn't sure what story I wanted to tell on the page so I searched for 'Travel Quotes' on Pinterest and found the saying 'Let's Go On An Adventure.'  I thought that seemed like a perfect title for 'our' adventure or journey through life as a married couple."  
Katie Scott lives in sunny Florida with her husband, two children, and an aging yellow lab. She and her husband are lawyers and together they've run a small law office for 15 years. Katie has been creating all sorts of art since she could hold a pair of scissors but started scrapbooking in the modern sense in 2000. She finds she's happiest when she can fit scrapbooking into her daily routine and is generally more concerned with the process and habit of scrapbooking than the end result. We're thrilled that Katie is a part of the Get It Scrapped Creative Team and love her website, Kiss and Tell Scrapbooking.
In addition to scrapbooking, Katie enjoys improvisational comedy and Bikram yoga. She's recently added art journaling to her many creative pursuits and her 8-year-old daughter is joining her on the journey. She loves spending time with her family in their  backyard, at theme parks, and when they're lucky enough, on the ski slopes.
[getinspired]