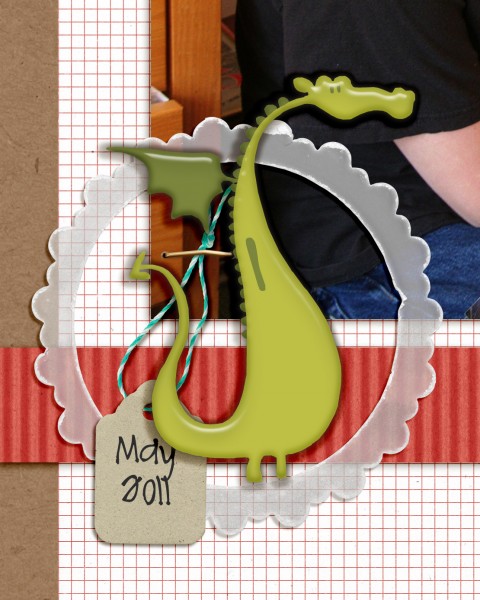 Vellum is a translucent paper that lets diffused light pass through so that the layer beneath is toned down, visible but not as clear and bold as when uncovered.
Use vellum in full-sized or small bits on your scrapbook pages to:
add layering with out bulk
add softness 
tone down a layer beneath
help a layer above pop on a busy background
make a pocket that reveals the contents in a subtle way
evoke a dreamy tone, a misty look, an old-fashioned feel . . . you name it — it will depend on the layers and colors beneath
Attach vellum:
with stitching
with brads or buttons
with adhesive (like micro glue dots) hidden by overlapping element
with staples
digitally!
Meghann Andrew says, "I used my Silhouette Cameo to cut  a background design out of a patterned vellum. I added interest to the background without too much contrast and business. To bring in another pattern, I added strips of patterned paper to the design behind the vellum. When using vellum, be sure that your adhesive does not show through, or place adhesive in an area that will be covered up by photos or embellishments." 
Deborah Wagner says, " This is a photo of my husband and me on a vacation for our 20th anniversary. I was inspired by these Bob Marley lyrics. I used layers of vellum for the torn, tattered,  and imperfect look that represents our many years together. This is a digital page and I made the digital vellum by filling tatterned page masks with white and then reducing the opacity."
Katie Scott says, "I recently found my Grandfather's muster rolls from WWII and wanted to include them in my ancestry scrapbook. Vellum was the perfect material for a pocket because it reveals that there are documents to take out and look at more closely. I machine stitched the vellum to the background paper. The machine stitching makes for a stronger pocket, and I can avoid any adhesive issues with vellum this way."
Barb Brookbank says, "The transparent quality of vellum supports the theme of snow and winter with its shades of white. The two vellum strips on the sides are similar to the tree branches in color and also because they are torn and ragged. Vellum is perfect for small journaling tags – it allows text to be easily read even on a patterned background."
This is a digital page, and I desaturated the photo and blended it into the background using layer masks and a piece of paper. I also lowered the opacity. I selected and copied parts of the tree branches and placed them behind the photo pocket and in the lower left corner for repetition and to draw the eye around the page."
Jennifer Matott says, "I used patterned vellum over the photo and in the upper corner of this page to create a sense of softness, as if viewing the image through mist.  I liked how the cloud pattern interacted with the bright colors to tone it down a bit. Using vellum as a design element can be so much fun!  I stitched the vellum in place but you can use vellum as a layering element, for journaling to layer over photos or patterns, and as a material to print an image onto!"
Chris Asbury says, "This photo was taken on a lazy sunny afternoon. To capture the feeling of the day, I used a minimal design without a distracting background and added a layer of vellum. I created the vellum look by using digital tissue paper and setting the blending mode to 25% color burn which blended into the 'sky' layer."
Kiki Kougioumtizi says, "I used vellum to contribute to a  fairy feel on this page because it's about a school play with the theme of a Christmas fairy tale. I used lots of blue glitter and my title was lost so I put the title on vellum. My snowflakes are die cuts from vellum, and to prevent them from tearing (vellum is a delicate paper) I ran them through my die cut machine using 5 layers of paper each time."
Doris Sander says, "I am really not very good with stamping or rub-ons, so I never like to apply either directly to my layout for fear of ruining it. Here, I applied them to vellum first then cut them out. The transparent look gives the appearance of having placed them directly on the layout with the added bonus of dimension."
 Terry Billman says, "I wanted to highlight my granddaughter's laughter and enthusiasm on this layout.  I used a strip of vellum over the left side of the photo to 'hide' part of the photo in order to accentuate her face. The vellum provided a background for the flowers and the journaling. I lowered the opacity of the vellum to about 7% and applied an overlay blending mode.  The pink petals of the flower are strips of pink paper, and I lowered the opacity of the green petals and the stems to give the translucent look of vellum."  
Brenda Becknell says, "My three-year-old granddaughter is a mix of little lady and tomboy.  I thought the mix of kraft cardstock, ledger and grid papers, label and tag stickers contrasted with the pinks, flowers and hearts and the softness of the vellum worked well to express her personality." 
"Vellum embosses, punches, and die-cuts well because it's a little stiffer than most papers.  It's also great for toning down bright colors or changing the shade of papers that just aren't quite right.  The pink cardstock I used for the die cut hearts on this page was too bright for my taste, but adding the diecut and embossed vellum hearts on top toned down the pink and added some texture and softness.  I attached the vellum hearts with little cross stitches on this page.  Stitching, staples and brads are my favorite ways to attach vellum.  If part of the vellum is going to be tucked under another element (like the top of the punched eyelet border) I will use micro glue dots to attach the vellum."
Debbie Hodge says, "I used a vellum pocket to hold the band with my journaling. While the pocket wasn't actually needed (since this is a digital page) it's a way to add subtle texture and layering. I repeated the texture at far left with a scalloped ring of vellum embellishing behind the cute dragon."
[current]