Creative merchandisers and home stagers often use the art of creative display to attract attention and create visual impact in an effort to drive sales.
Home decorators use creative displays to draw focus and create the appearance of a well-put-together home.
Scrapbookers can take cues from these kinds of displays to inspire page design–and I frequently do.
In fact, I'm such a fan of translating creative displays to scrapbook page layout that I've included a detailed lesson with sketches and layered templates on how to do this in the Layout issue of Masterful Scrapbook Design just out.
My process entails:
understanding the underlying foundation of the display,
studying how objects relate to each other within the display, and
recreating lines and shapes from the display.
Here's one of my recent vignette-inspired pages. Every year we can't wait for the Hickory Farms kiosk to pop up in our mall so we can start stocking up on our favorite holiday treat.  To capture this memory I used a vignette from the decor8 blog as a starting spot for my design.
I replicated many of the same shapes and their placement in my own design.  See the inspiration piece here. My two favorite details that I've lifted are the letter A that I've layered over my photo like the one in the image and the stitched journaling lines that are meant to be a loose translation of the shorter stack of magazines.
Find a collection of vignettes on the Get It Scrapped Vignette Pinterest Board and see how our creative team has used vignettes to inspire their own pages.
Jennifer Matott says, "This page was entirely inspired by my photo and the vignette arrangement in this inspiration piece. The photo is of me with my girlfriends during a sunset in which the light was on the side of a barn where it created vibrant shadows."
"I liked the grouping of 3 rectangles in the vignette.  I also loved the feathers but wanted them to hang down instead of being tucked in. The little photo booth photos were perfect as snippets of imagery, so I printed my photo small and added a few little shapes of papers to create an interesting arrangement."
Inspired by a "plate wall" from mmmcrafts, Michelle Houghton made this page about a fun outdoor game that my sister in-law taught her family. In the inspiration image, an assortment of plates are arranged in a curve that goes around the lamp on a side table just in front of the wall. Michelle says, "We spent a lot of time playing it on a family vacation.  I turned the vignette horizontally and cut my photos to become the circular plates."
Audrey Tan replicated the "plate wall" look with buttons and misting "negative-space" circles. Audrey says, "I misted with a circular mask and to make a backdrop for my buttons."
Meghann Andrew says, "This layout records an exciting time right now for our little family, as we're expecting our first child. I was drawn to a vignette of two fancy oval mirrors and black-framed photos because of the teal background wall and the mix of simple and ornate frames. I recreated it loosely on my layout by using two ornate frames and three very simple ones against a teal background."
Marie-Pierre Capistran says "This is the story of one of our favorite places to visit when we go on holiday in Orlando: a petting farm. The design was inspired by this mantle arrangement from BHG.com that featured a white framed photo and several small pitchers and vases. Everything is white and yellow. I framed a photo and arranged the embellishments on a straight line on either sides of the framed picture. I also tried to stick to the scheme colour (I adapted it to my photo) and to the shapes of the objects in the vignette." 
Deborah Wagner says, "This is a photo from several years ago of my son climbing a tree in our backyard. I was inspired by a dramatic arrangement of feathers in tall vases, a globe, and a framed image. I especially liked the tall vases filled with feathers. During my scrapping process, I lost the globe shape, and added another tree. The idea of adding the banners came while trying to draw the eye from the trees to the photo. Although I strayed from my original inspiration, it was a great start, and it certainly got my creative juices flowing." (Special technique: I duplicated the background paper 2 times and blended all three layers together to get 3 trees instead of just one.)
Sue Althouse says, "This page records photos of my husband and me dressed up for several special occasions.  A wall arrangement provided the inspiration for the layout. I kept the basic design of simple frames grouped tightly together, filling each frame with some combination of photo, paper, title, journaling or embellishment. Just like the inspiration piece, my background is stark white and nothing escapes the confines of each frame. This more formal presentation lends itself well to the theme of dressing up for a special event." 
Barb Brookbank says, "This layout is about my close relationship with my granddaughter and one way I express my love – by braiding her hair, which I've done since she was a toddler. Using the image of a home entryway that included a large mirror over a long table with boots beneath as a starting point, I began with a circular photo, placed on a doily to repeat the shape of the mirror. The ribbons and journaling echo the shape of the table. I clustered leaves and a flower on the left. The papers, ribbons, pumpkins and elements represent the mat and the objects on the floor. I tried to place an element where the hanging 'burst' was but found it made the page too cluttered and was too distracting."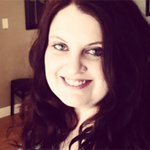 Amy Kingsford
Amy writes for and administers the Get It Scrapped blog. She's also our Creative Team Coordinator and a teacher at Masterful Scrapbook Design.
Amy Kingsford is a happy wife and blessed mother from Northern Utah. In addition to her work here, she also shares ideas and inspiration on creative approaches to modern scrapbooking and papercrafting at her blog My Letter-Sized Life.