Use family quotes and printable word art on your paper or digital scrapbook layouts and projects — for titlework, embellishing, and even journaling.
I sustain myself with love of family. –Maya Angelou
Family is one of life's great masterpieces. –George Santayana
  click here to download zipped file with png and pdf images
A happy family is but an earlier heaven. -George Bernard Shaw
The love of a family is life's greatest blessing. –Unknown
You don't choose your family.  They are God's gift to you, as you are to them. -Desmond Tutu
Call it a clan, call it a network, call it a tribe, call it a family.  Whatever you call it, whoever you are, you need one. -Jane Howard
The strength of a family, like the strength of an army, is in its loyalty to each other. -Mario Puzo
Families are like fudge – mostly sweet with a few nuts. -Unknown
The family is a haven in a heartless world. -Christopher Lasch
If you cannot get rid of the family skeleton, you may as well make it dance! -George Bernard Shaw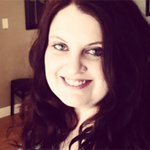 Amy Kingsford
Amy writes for and administers the Get It Scrapped blog. She's also our Creative Team Coordinator and a teacher at Masterful Scrapbook Design.
Amy Kingsford is a happy wife and blessed mother from Northern Utah. In addition to her work here, she also shares ideas and inspiration on creative approaches to modern scrapbooking and papercrafting at her blog My Letter-Sized Life.