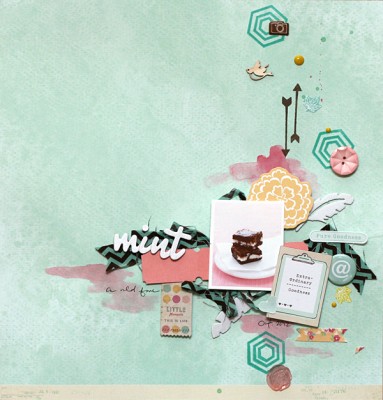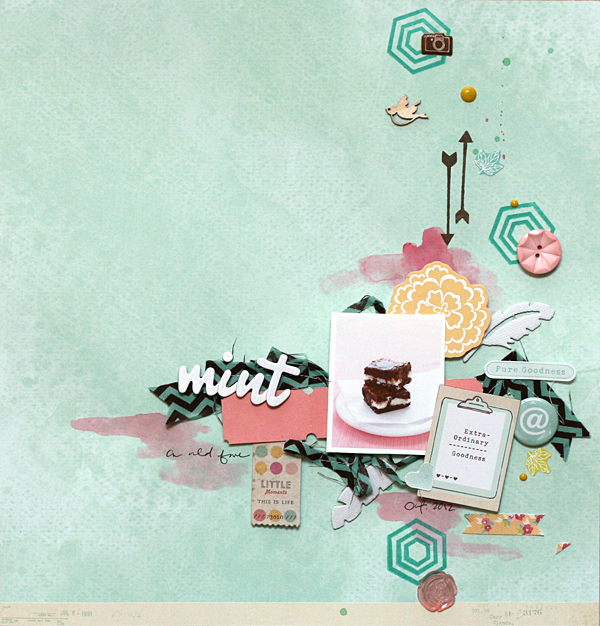 Mint, like other shades of green is often related to nature and representing growth and freshness. It's a color we're used to seeing around us and works well for backgrounds.
Mint is also a currently trendy color. It's a popular color for weddings in 2013, and it's showing up in fashion, home decor and front doors. Mint is a great mixer with other colors and makes a great base.
More on mint:
Ashley Horton says, "I wanted a romantic, but modern look for this photo of me with my hubby, but I didn't want use the traditional "love" colors of pink and red. I thought a soft mint would be the perfect background for this photo." Ashley accented mint with pink, brown, and white — as well as the red in the photos. Combining mint with traditional love colors gives things a new twist.
The color mint was a great base for Leah Farquharson's page about the mint brownies she used to make when she was younger. She says, "I've been thinking about these brownies and just had to pull out the recipe. I love working with the soft color of mint. It's been a favorite for quite a while, I'm just glad I have an excuse to use it now that it's so popular!"
Stefanie Semple chose this mint green patterned paper for the sense of texture and grass-like feel it added which were perfect for her photo. She says, "I added the baby bird on top of my title as my daughter was looking up and I wanted it to appear as though she was looking at the birdie. She is my last little one, the smallest chick in our nest so the bird is symbolic of that too."
Kiki Kougioumtzi says, "These photos are from my daughter's first time at a ski resort. When she saw the snow, the first thing she said (with eyes wide open in awe) was, 'There's so much!' I used mint  because it's refreshing and a variation from so many pages about snow in blue hues."
Terry Billman says, "My husband's dream vacation was a two-week trip golfing the Robert Trent Jones courses in Alabama. We took this trip last year, and would you believe it rained every single day we were gone? We did manage to golf in between the downpours. I wanted to show the magnitude of the rain that we had to contend with. It was no little drizzle!  The smaller photo is of my husband sitting in the rocking chair on the porch.  You can see the stream of water in the small photo also."
I made the background using shades of mint and Anna Aspnes' Art Play Storm paper to get the effect of dark storm clouds in the sky. I added the texture to give the feeling of thunder and lightning. The water in the picture flows downward to the acrylic alpha, keeping the idea of water flowing. To create movement I repeated the mint color from the top left, to the embellishments in the middle above the small photo, to the title under the small photo."
Christy Strickler says, "There are a lot of vintage items in the Get It Scrapped Mint Inspiration Board on Pinterest.  Mint often seems to be paired with silver. Occasionally, there are bright pops of color to warm up a very cool color palette. I am often reminded of cooking in a kitchen when I see mint paired with brighter colors. I wanted to capture the retro vibe of mint but give it a fresh look. I used a tone-on-tone white background with equal parts of mint and orange. My goal was to draw the eye to the photo with the mint matte and orange frame. I inked the papers in silver and added a few silver accents.
Chris Asbury says, "I love the soft combination of mint and soft pink. The colors in the photo are achieved by blending it on color burn mode into a patterned paper.  To complete the page, I added a frame under the photo and layered elements down the left side for balance. I added a green and pink paint strip to enhance the color theme. (The photo was taken by a friend who recently traveled to Venice)."
Amy Kingsford says, "This is heritage page about my great-grandparents, and I was inspired to use mint on this page because of my photos minty color casts.  I used a mint colored border and mint leaf accents sprinkled throughout the page to keep the eye moving."
[ontrend]