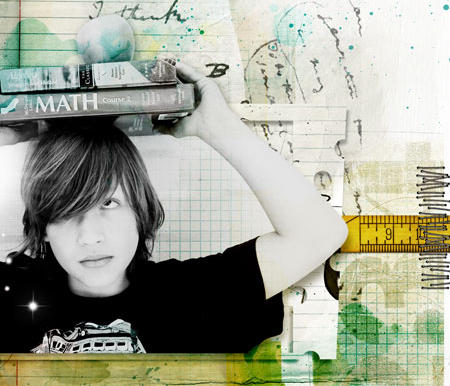 by Debbie Hodge
Office-print patterns like grids, ledgers, and school-ruled papers are great choices for your scrapbook pages for several reasons including:
they support of school, study and growth themes,
they make great bases,
the come with built-in journaling guides, and
they mix well with a variety of print patterns.
See examples and ideas for using grid-, ledger, and school-ruled prints below.
1) Support theme with "office" prints
Adryane Driscoll finds that lined and graph papers work well for school pages. She says, "The straight lines and squares help emphasize some of the structure of school and also provide an easy space for adding journaling."
Jana Morton use a strip of distressed lined paper, reminiscent of something torn from a schoolbook to accompany school portraits taken decades apart.
Jennifer Matott loves ledger backgrounds, and this one was perfect for her page theme about language development. Spraying mist through letter stencils and sprinkling letter stickers reinforces that themed base.
Jennifer says, "I wanted to convey my son's late development of language.  He was good at using body language and pointing to what he wanted but using sentences was difficult for him to grasp.  We found out that it was mostly due to the fact that his older brother did all the talking and translated everything for him!  'Use your Words' is a phrase we used frequently."
2) Office prints make a great base
Brenda Becknell likes ledger and grid papers as her base because they are fairly neutral but add more interest than a solid cardstock. Brenda says, "My photos on this page are a little dark so the lighter background of the grid and text papers keep the page from being too dark.  I distressed and inked all the edges of the papers."
Debbie Hodge used graph paper as a base for a beach page. While it doesn't support theme, she finds, just as Brenda does, that it adds more interest than a solid while being close enough to a neutral to let the photos stand out. Debbie says, "To me, graph and ledger papers convey an authentic or vintage feel. What I mean is that they feel like they could have been grabbed from a desk drawer to hold the photos I was working with. Of course, the making of the page is more studied than that, but, still, I like this tone."
3. Office prints come with built-in journaling guides
Marie-Pierre Capistran used a ledger as her background since she planned to hand write extensive journaling about her daughter learning to swim. It provided welcome guidelines. Ledger is also a great mixer with other patterns and worked well with the papers Marie used to mat the focal point photo and smaller photos. Marie says, "When my background was done, I added vellum to add softness to the page."
Ledger is a logical choice for school pages like this one from Katie Scott. Not only does it support theme and add interest, she's turned it into a handy and appropriate journaling spot.
4. Office prints mix well with other patterned papers
Adriana Puckett says, "I love mixing and matching patterned papers. I almost always include a ledger or grid print for a number of reasons. First, it provides someplace to write journaling. Second, it can usually act as whitespace, allowing the eye to rest or meld the faint grid together before moving to the bolder, stronger prints. And third, these designs add a lovely retro feeling to most layouts. However, ledgers or grids can reduce the energy in a layout, so I often use them as an accent instead of the main paper."
"On 'goofball' I wanted to maintain a high-energy feeling to match my daughter's zaniness. I took a page from a vintage writing booklet and used that as a main photo mat. I also used ledger paper as a border and scallop-punched it. Then I layered other papers all on top of a bold striped background."
Debbie Hodge mixed a variety of papers on "Eggcited" with vintage prints for the feeling of country charm, the circus print  for the idea of an exciting moment, and the "rainbow" confetti-punched paper as a nod to coloring Easter eggs. With so many patterns, you might think there wouldn't be room for more, but the ledger print backing up the photo mixes well.