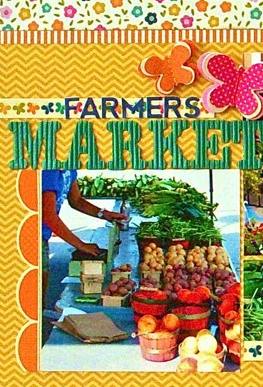 by Debbie Hodge
What are the places you visit daily, and what are your habits around those places? Next time you're out, take a few photos and get them onto the page with the details that will trigger memories later and make a record of your community.
Main Street
Chris Asbury says, "I seem to be attracted to the charm of small towns. I was born in one and now live in another. Livermore, founded in 1869, is California's oldest wine region with a rich western heritage. Our downtown main street is tree-lined and shady. Shoppers and strollers take their time. Even the cars don't seem to be in a hurry.  It has just the right amount of quaint ambience to give one a little quiet time in this busy world."
"I took the photo at this angle so I could create a triangle effect on the layout. I used a watercolor sketch technique to give the page a homey feel. With just a few other elements and journaling the page was done."
Seasonal Market
Sue Althouse says, "On summer Saturday mornings we like to visit the Farmers' Market downtown. We make a few purchases of whatever is in season and head to a little cafe across the street for sour creme coffee cake and chai tea. The cooler morning weather and sights of people out and about get our weekend off to a great start!"
Grocery Store
Debbie Hodge says, "Groceries are the thing my husband and I spend the most time shopping for. While most of our groceries are purchased at a larger, less-expensive chain store, we do make weekly purchases at our local grocery. I've scrapbooked this topic to record a few things about why this store is interesting, including: 1) the existence of this store makes our life better because of my work and lifestyle right now, 2) our culture is currently in a trend toward buying and eating locally grown foods; and 3) this grocery exists in an particularly interesting local economy– a college town in which demand swings drastically — and the owner has made smart and successful choices."
Eating Spots
Brenda Becknell took photos of three of her favorite hometown restaurants for this page. She says, " We've been eating at these places since we were teenagers, and I have lots of fond memories of good friends, fun times, and great food all associated with these sots.  I added hand journaling on this page (which I rarely do) because it seemed to fit the simple, casual style of the page.
Errands and Treats
Katie Scott says, "My daughter's favorite place to eat lately is Tropical Smoothie Cafe, so the last time we went, I picked up a franchise flyer shaped like a giant smoothie and I used it on this page.  I added stickers and stuff (the banners are from a Walgreen's flyer) over the franchise info on the cup."
"The photo isn't from any particular day, but every time we go to Target she has me take her photo in the giant red Target bull's eye circle. It has gotten to be a bit of an everyday type of tradition."
Library
Stefanie Semple says, "We've been members at our local library for more than 20 years and it's played an important of role in my family's history. I want to remember that when John was 2 we'd have a tantrum most days if we left without the Postman Pat video. All of us knew all of the words to the songs as we'd watched them so often. The librarians have helped with projects, cub badges and helped nurture a love of reading."
"The plastic sleeve and library card are a nod to times when library work was done on paper rather than with scans and barcodes now used. The title is stitched to denote the anchoring role this institution has been to me. The postage stamp element is used, much like the books that we take out that have been thumbed by so many people before us. In this era of ebooks and ereaders who knows how much longer a library will survive?"
Park
Michelle Houghton says, "My girls and I are park lovers.  We have spent a lot of time in all of our local parks over the years. The challenge to me has been how to spice up the photos and layouts about a place that we are at so frequently."
"As my girls have gotten older, it has been fun to document skills they've achieved as they've grown and gotten stronger.  My youngest showed off her newfound skill this summer, swinging accross the rings.  I wanted to show the motion and the completion of all the rings so the photo on the layout is a collage of 6 photos, 4 of them cut down to varying degrees. ( If you feel like you have seen this layout before, my older daughter  accomplished the same skill 2 summers ago and I did a very similar layout for her.  I loved it then and was excited to duplicate the process for my baby!)"
Daily Walk
Meghann Andrew made this layout to record her daily walk that runs along a series of lakes just outside of her house. She says, "It is by far the place we frequent the most in our community since we have an almost 100 lb. dog to exercise! I used photos (both Instagram and from my DSLR) from different days that show the various things that Toby does on our walk (sitting on the hillside, smelling the lilies, walking). One of Toby's favorite past-times on these walks is to chase rabbits, so I had to include the rabbit pennant from the October Afternoon Woodland Park chipboard shapes. I love little touches like that!"
[designclass]