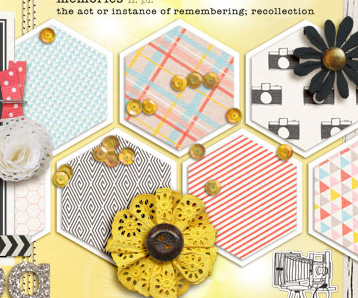 Moving out of a period in which florals and ruffles were popular for fashion and home decor, geometric shapes provide an uncomplicated and modern look.
Hexagons go a step past basic squares and circles to present a shape that's interesting to arrange and present. Hexagons are meaning neutral and work with a range of scrapbook page subjects.
Make a band of hexagons.
Amy Kingsford clipped coordinating patterned papers to the band of hexagons spanning "Family Photog" a page about how she loves being the person in her family with the camera, the one responsible for capturing the wonderful moments and stories.
Amy says, "I addressed the one problem with being the one behind the lens, by substituting an "image holder" accent for my photo.  I think the patterned hexagon foundation brings energy to this photo-less page."
Add diagonal flow with hexagons.
Leah Farquharson used the repetition of both positive and negative chipboard hexagons to add interest and movement to her page "Chicago Bound."  As these hexagons trickle down her page so does the viewer's eye–taking in key details like her map and journaling.
Embellish with a stack of hexagons.
Debbie Hodge embellished a vintage-feel page with a stack of three hexagons in progressively smaller sizes cut from felt and topped with handstitching.
Crop your photos in hexagons.
Kiki Kougioumtzi captured snippets of her summer island-hopping hexagonally-shaped photos.  She cropped them in Photoshop adding a white stroke to the edges for definition. Kiki says "I used larger patterned-paper hexagons to make a haphazard mat for the photos." The photos are raised from the background with pop dots.
Audrey Tan  took a similar approach with photos of her children holding the Olympic torch. Her page is digital, and she "clipped" her photos to hexagonal shapes in Photoshop, an approach. Three of the hexagons each hold single photos, while another cluster of three hexagons holds one large photo spread over the three.
Make a quilt of folded hexagons.
Katie Scott punched squares from scraps of double-sided patterned paper then folded two opposite corners into the center of each to create hexagon shapes.
She arranged three rows of these pieces for a quilted look that's accentuated by the machine stitching running over each row. Katie says "I love the way it makes them look quilted and how all the random colors work together."
Find hexagons in everyday materials.
Deborah Wagner matted a photo of her handsome nephew on a scrap piece of chicken wire which has an underlying hexagon pattern .  Deborah says "My sister doesn't scrap so it is my pleasure to document my nephews' and niece's lives.  I chose the chicken wire, because of how well it supported my chick magnet theme."
Cut hexagonal openings.
Adriana Puckett cut a honeycomb-patterned mat with her Silhouette die cutting machine.  It layers over her photos of chickens like the very chicken wire of their run.
Adriana says "It was fun to layer Instagram images of our chickens both in front of and behind this die cut mat. As I was working with it, I thought of all sort of uses for this pattern – for pictures of kids, a collection of pinned images or even as a holder for various notes tucked here and there."
Repeat hexagons in a variety of mediums and sizes.
Jen Matott says, "I have a love affair with hexagons! I find it so easy to use these shapes scattered around a page or as layers." Here she mixed cut hexagons with stenciled hexagons and stenciled hexagon outlines.
Jen says, "I started with gesso and worked it through a Crafter's Workshop chicken wire template.  I used an old credit card to smear it through the openings. I then used the still messy template to stamp outlined hexagons in the upper right corner–I hate to waste anything!  Finally I cut a few hexagons from patterned papers and added Pink Paislee mistable shapes to create depth."
Add oomph to a solid background with misted hexagons.
Tanyia Deskins  says "I wanted a plain background so that I could journal a lot, but I also wanted to add a little ooomph to it! So I went with a spray painted mask of hexagons! It added a great touch of color and a bit of pattern to the paper in the areas where there wasn't any journaling."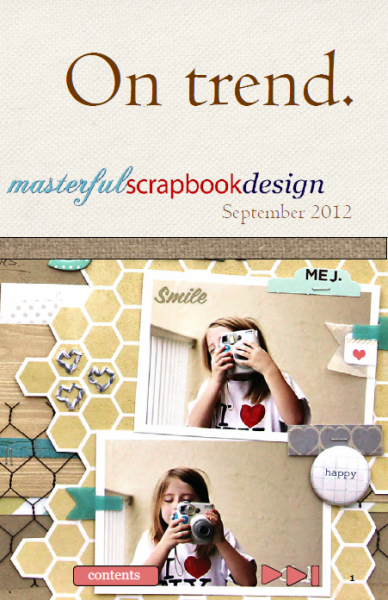 Find out what makes something trendy at a particular time and become a trend-spotter yourself. "On Trend" is $16 at Masterful Scrapbook Design–available only through October 1st. Click here.
[ontrend]