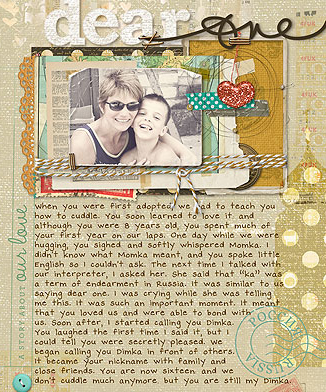 by Debbie Hodge
Journaling prompts yield scrapbook pages that take thought and even a bit of soul searching. While it may not be everyday fodder for your scrapbook pages, taking that "journaling journey" every once in a while will give you albums with a rich variety of stories and a record of your life that photos don't always reveal.
Here are a few journaling prompts to get you started.
Deborah Wagner says, "When I came across a journaling prompt on nicknames at Journaler's Junction, it sparked a memory from several years ago about our son, Dima. Thanks to the prompt, this story is finally documented for our family to enjoy."
Journaling: When you were first adopted, we had to teach you to cuddle. You soon learned to love it; and although you were 8 years old, you spent much of the first year on our laps. One day while we were hugging, you sighed and softly whispered Momka. I didn't know what Momka meant, and you spoke little English so I couldn't ask. The next time I talked to our interpreter, I asked her. She said that "ka" was a term of endearment in Russia. It was similiar to us saying dear one. I was crying when she was telling me this. It was such an important moment. It meant that you loved us, and were able to bond with us.  Soon after, I started calling you Dimka. You laughed the first time I said it, but I could tell you were secretly pleased. We began calling you Dimka in front of others. It soon because your nickname with family and close friends. You are now sixteen, and we don't cuddle much anymore, but you are still my Dimka.
Kelly Purkey says, "I recently turned thirty years old and had many emotions – good and bad – about the big milestone. I used a journaling prompt from the Smash tag to help record some of my thoughts about the big birthday. I liked that the image on the tag was a vault and it just fit in nicely with what I wanted to say on the layout. I just chose a simple photo of me and really built the page around the journaling."
Katie Scott keeps a Pinterest Board called Story Prompts and and the 5-year prompts from Tami Taylor are on there.  She used this prompt: "If I had to write home about today I would tell this story."
Journaling:  "True Story!  Today on the way to work I saw a snake in my parking spot at work wiggling all around and then suddenly (and inexplicably) it rolled over dead!  (I called the office from my iphone – I wasn't getting out of the car just yet!) Kelly came out and poked it with a broom and it was totally rigid!  (It was seriously weird)."
Tanyia Deskins says, "I find that journal prompts can be great to give you a creative edge and get you to consider scrapping page themes you may have not thought about before. We all have photos with no specific story, and journal prompts can give you a push in a direction you may not have considered before."
"I like to use the website Journaling Prompts because you can randomly mouse over something and go with it! The prompt I got was: give an example of what you thought was a fault in another person that turned out to be a strength in reality. I chose to scrapbook about my daughter being a smart aleck. Sometimes this can be a negative trait, but in this case my daughter owns it in a good way!"
Sue Althouse says, "Do I typically use journaling prompts? No. It can be hard to find a photo. The prompt can seem artificial. Journaling is not usually a problem for me. But there are some great journaling ideas out there that can trigger a memory. At Daydreaming on Paper, I received this random prompt: "List the dishes that your mother or grandmother made for which you would love to have the recipe."
Adryane Driscoll used the journaling prompt: "Say thank you to someone from your past. Explain what that person did for you" for "Thanks, Coach."
She says, "This page is a thank you to Dave Adair, Coach of the El Camino Real High School Girls' Swim Team. I chose to write about City Finals in my junior year. My father took these photos. I think my grandfather, who is sitting next to me in the top right photo, must have had these (and the newspaper article) tucked away in one of his albums. My dad gave them to me a few years back and they've been sitting in a drawer. When I read the prompt, I thought of these photos and the story that goes with them."
"Before this assignment, I had not actively searched out journaling prompts.  I think that will change in the future.  There are so many good sources and as I read through the many prompts all kinds of ideas came to mind.  I don't think I would have recorded the memory behind these photos had I not been inspired by the prompt."
Sara Gleason says, "Journaling is something I really love and working journal prompts is a natural part of my storytelling and memory keeping process. This page is the fruit of that process. I was inspired by a journal prompt that called me to consider the power of accountability in my marriage. It was a challenging prompt because it called for introspection and an honest reflection."
"I journaled as if I were writing a letter to my husband. The design is simple here because I wanted to keep the words central in hopes of reflecting their earnestness. The journaling is framed with clean and linear lines."
"I appreciate how this particular prompt, encouraged me to put something really meaningful and earnest to page and I felt as though the process of this scrapping actually impacted my life, in a tangible way. And I love that I'm keeping memories that reflect what I am feeling and thinking as much as it reflects what I'm doing. And I love that the story I'm sharing is a real one, with the occassional ugly blemish in among all the other beautiful parts of it."
[lovejournaling]